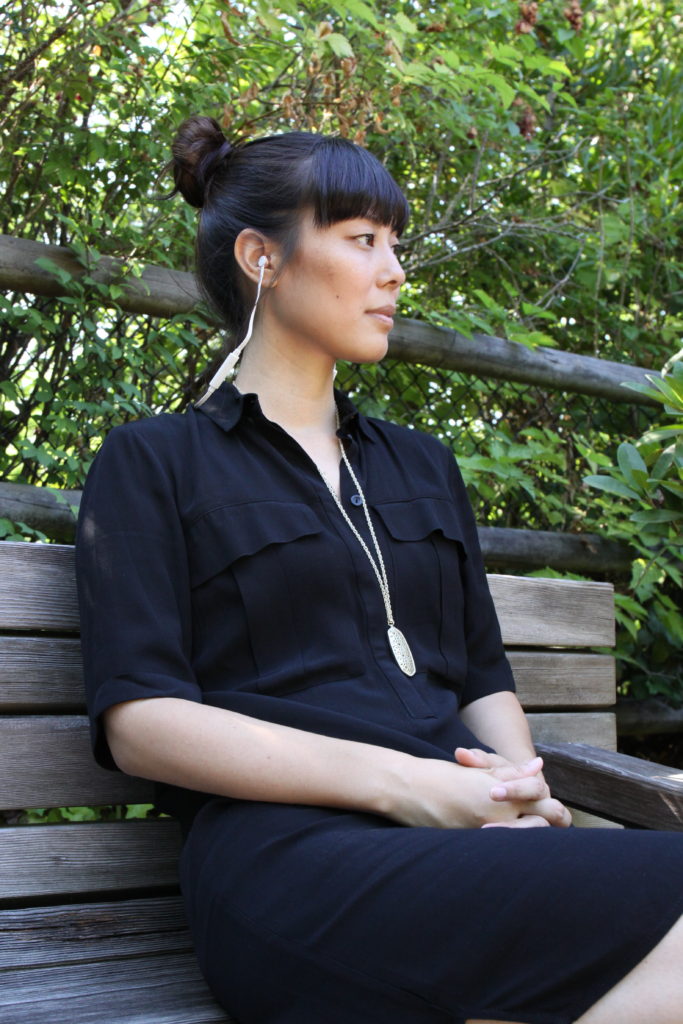 I received a complimentary pair of Sudio Vasa Bla headphones to try. All opinions expressed are my own. 
I have been meditating on and off for years, but struggled to maintain consistency and stave off boredom. Half the time, I would either fall asleep mid-meditation or just give up and find my mind wandering aimlessly. However, with the help of an amazing meditation app plus my Sudio Vasa Bla wireless headphones, I have created a routine that I have stuck with for months! It has helped me tremendously with my generalized anxiety disorder and panic attacks. I'm going to share with you all of my meditation secrets in this post!
I downloaded the InsightTimer app on the recommendation of a fellow mama blogger, Chandra, at Oh Lovely Day. I really like that the app is FREE and it houses a library of different meditations. I started off by experimenting with a few basic instrumental meditations and a few guided meditations that we were recommended to me by the app. Some I liked. Some I didn't. I bookmarked the ones I liked and went on the search for new ones based on my needs (meditation for anxiety, meditation for stress reduction, meditation for uncertainty). I narrowed those selections down to meditations that were fifteen minutes or less. As a busy mom, I do not currently have more than a block of about fifteen minutes.
How I Meditate Every Day
I put in my Sudio wireless headphones and listen to about fifteen minutes of guided meditation while getting ready in the morning. My Sudios are perfect to use during my meditation time because the studio quality sound elevates the meditation experience. Once you close your eyes, you are very connected with every soothing voice and sound that comprises your meditation. Even better, the headphones are wireless and I can be away from my phone and still hear everything perfectly. My phone is one of my single biggest distractions during meditation. I am so tempted to look at it! With my Sudios, I can tuck my phone away and not think about it. As a bonus, the wireless headphones have also enhanced my workouts because I am not constantly getting tangled up in wires!
The Meditations within the Insight Timer App That Have Helped Me the Most 
Once you download the app, you can find the meditations I recommend below by using the search function under the headphones icon on the bottom toolbar. If you like these meditations or find any others that suit you, you can bookmark them so you can refer to them again and again.
I have been coming back to the same guided meditations in the Insight Timer app time and again. Two of my recommended meditations are by the same psychologist, Dr. Julien Lacaille based out of Montreal. The first meditation I recommend is called "Sitting With Not-Knowing" with Dr. Lacaille. This particular meditation helped me as I embarked on our IVF cycle and throughout the entire cycle. It also helped with the extreme panic and anxiety I felt with driving on the freeway again. I did not drive on a highway or freeway for about nine years. I now regularly drive the freeways.
The second meditation by Dr. Lacaille is called "Becoming a Nonjudgmental Observer". This one helps me separate from my thoughts and get out of my head. On a similar note, I also listen to "Shape of the Breath" meditation by Brandon Alter and "Morning Meditation with Music" by Jonathan Lehmann. All of the meditations are great for stressed out over-thinkers and individuals with anxiety.
I hope this post helps you on your journey of meditation! Please feel free to comment or email me any questions.
You can use code "DOMESTICGODDESS" to get 15% off your purchase at www.sudiosweden.com.