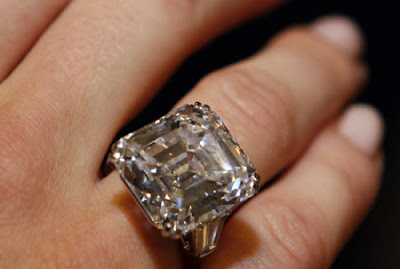 Lately, I have become acutely aware that sometimes when I am out in public, I look down at my engagement ring and it gives me an air of confidence, and not because I am necessarily thinking, "This was given to me by the man I love." Let me clarify. The ring and the ring's presence on my finger has been known to make me feel different, and sometimes better, about myself.
This is difficult for me to admit because it sounds so…well…shallow and materialistic. What kind of woman would feel better about herself because of a ring? Me, apparently.
But it's not just me. Society seems filled with reasons to feel better about yourself because of your ring. Why else would women feel competitive when it comes to their bling? And, men aren't off the hook either. When we first got engaged, Mr. G seemed to think that the bigger the rock meant something, too. It said to people, "Back off, men, this lady is taken!" Or "I must love my lady a whole lot to give her this much bling!" Yikes.
Ultimately, I realized, for me, it doesn't really have as much to do with the size of the rock. It has to do with the meaning I prescribe to it. I think my e-ring is fabulous, but I don't want it to define me. I still want to be able to go out in the world, sans ring, and feel the same way I normally would. I guess I am trying to differentiate between wanting to wear my ring and needing to wear my ring. I never want to feel, for whatever reason, like I "need" to wear my ring in mixed company. Never, never, never.
I am not saying that we, as women, shouldn't feel happy and excited about our rings. I just don't ever want to get to the point where I depend on having it on my finger; that I somehow wouldn't be the same woman if I walked into the room without my ring on. Does that make any sense? Do any of you ever have deep thoughts about your ring?