Easter is coming up quickly! Today I am sharing some fun things that kids will love in their Easter basket this year. Most years, I also include a little Easter candy, a stuffed animal, and an Easter book.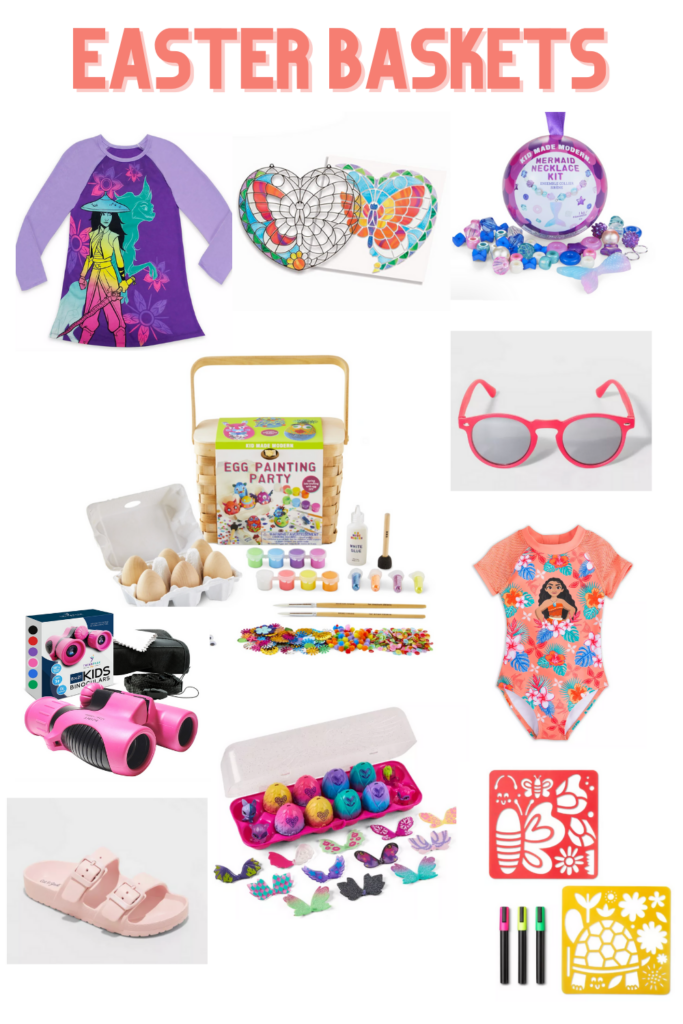 Raya and the Last Dragon Nightshirt
PJs are a great option for Easter baskets! K loves Raya and the Last Dragon and has watched it at least a dozen times since it came out! She will love this nightgown.
We've gotten a few of these stained glass made easy kits in the past, and they are a big hit! Amazon has several different options for these stained glass kits.
A great basket stuffer! This necklace kit is cute and affordable. Who doesn't love mermaids? They also have a shark and unicorn option.
I love ordering these high quality craft kits for every holiday! I'm not sure if we will actually dye eggs this year. This is the perfect Easter craft and a creative way to keep little hands busy!
I throw in a cute pair of new sunglasses with K's Easter basket every year. She will wear them all summer long!
I did some research on children's binoculars on Amazon and these were the winners! I can't wait for K to go exploring with them.
Swimwear is another Easter basket staple! We didn't get a chance to participate in swimming lessons last summer (due to the pandemic), and I'm not yet sure about this summer yet. However, I'm pretty confident we will do lots of water play in our backyard and maybe even a few trips to the beach. K is a huge Moana fan and will love this swimsuit!
I always include sandals and usually look to Target for affordable, seasonal options. I got these for K last year and she got great use out of them in the warmer weather.
K is looking forward to an egg hunt this year. She remembers how fun it's been in past years! We will be doing our own egg hunt, and I wanted some cute, unique eggs for her to find. These Hatchimals got great reviews and they come with an egg carton to store them in.
This is another cute craft option that will keep the little ones busy. K loves window clings and anything to do with window art. This kit comes with erasable chalk markers for her to create and erase.