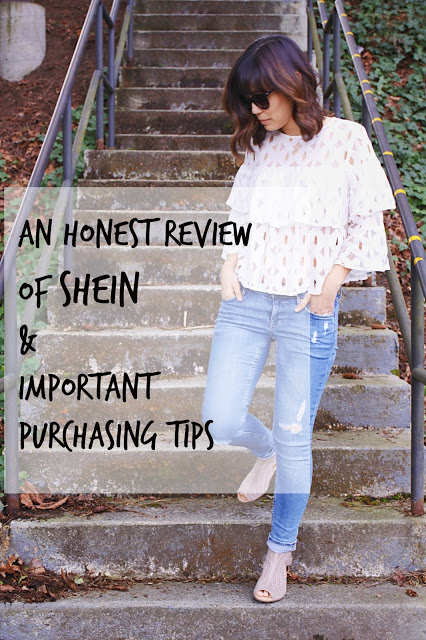 First, I want to make it clear that I have not been compensated by SheIn in any way, shape, or form. I am simply a customer, just like you, who was curious about those ads that were always popping up in my sidebar, and decided to order clothing from their website.
I was very nervous to place my first order with SheIn. I had done a few quick google searches and discovered multitudes of negative reviews including a one star/F rating on the Better Business Bureau. I decided to place an order anyway after very careful consideration. Allow me to explain.
1) I only considered buying items that had previous reviews from customers and had customer photos attached to them.
2) SheIn includes all the measurements for their pieces (including measurements for all sizes) on their website including the size/height of their models. This really helped me get an idea of sizing, and you can use a measuring tape at home and double check to make sure it will fit.
3) In my experience of browsing the site, almost all of their pieces run small and/or very small. Watch out for this.
4) Their low prices really drew me in, but I kept my expectations realistic. I only considered pieces on SheIn that were seasonal, statement-type blouses, and trendy. I did NOT shop for any quality capsule pieces I expect will last me for years to come.
I crossed my fingers and was pleasantly surprised to receive my first order in the exact time frame it was promised. If anything, it arrived earlier than expected. (There are quite a few complaints online about customers never receiving their packages. You can read
more here
. I paid an extra $1.99 for shipping "insurance" which SheIn's website says grants me free returns. However, I'm not sure if it affects the shipment/receiving process.)
When I opened my package, I was met with a strange, off-putting smell almost like moth balls. I wasn't happy about this, but I quickly took the blouse out of the bag and hung it up. The smell was gone within hours, and I had no further problems with this.
When I tried
the blouse
on, I felt that it fit and looked exactly how it did on the website. The material and construction was pretty decent given the price I paid ($17). I would compare it to Forever21 quality. I anticipated that the shirt would run small (as mentioned above) so I ordered one size up. It worked out perfectly! Remember, I am a mom and really need good coverage (no butt, mid-driff, or boobs hanging out) when it comes to clothes.
A few final tips
If you decide to make a purchase,
1) Register for their site for a quick $3 off your purchase of $29 or more.
2) They accept Ebates, so don't forget to use it. Don't have Ebates? Sign up through my personal link!
3) Also, confirm your registration for a quick 100 bonus points. Every 100 points = $1. You can pay for up to 70% of your purchase with bonus points at checkout.
Here are some photos of
the blouse I purchased at SheIn
. This is a blouse I would wear on a date night or out for the weekend. It's not my normal everyday top, because it is on the shorter side. If I wore it during the week, I would wear a cami underneath. It also looks great underneath a jacket.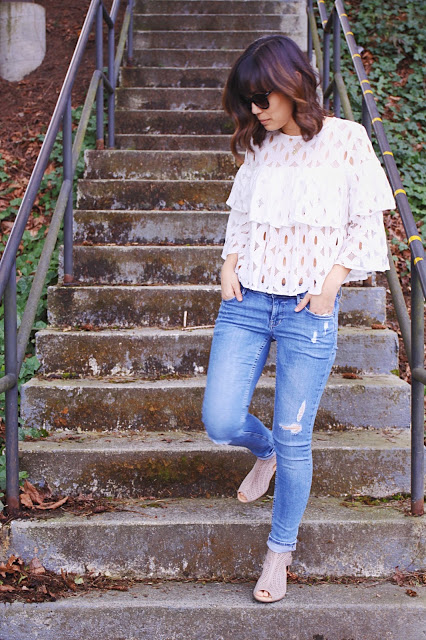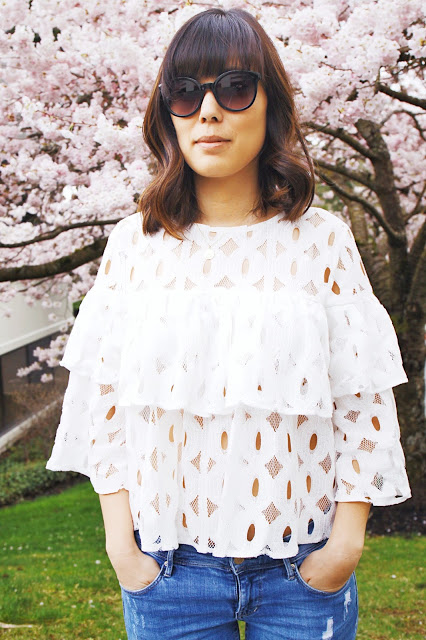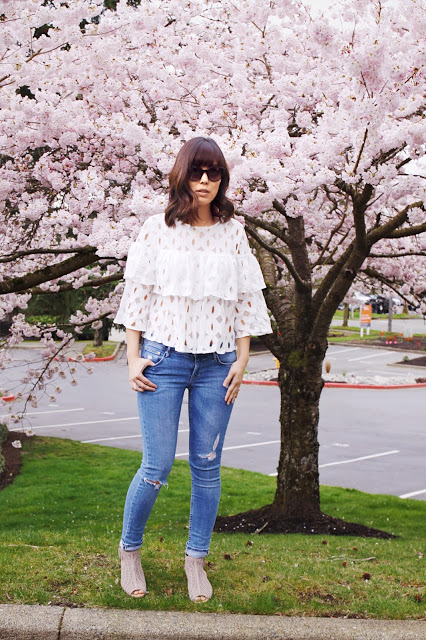 My experience with SheIn was overall positive. I actually placed another order just this morning. I'm keeping my fingers crossed that it wasn't just beginner's luck with my first order and I continue to have good experiences with SheIn. I will keep you guys posted!
Anyone else ordered from SheIn? Please share.