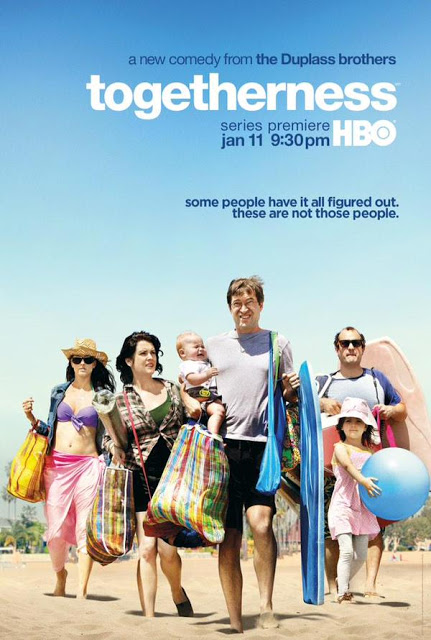 Our newest favorite show is Togetherness. YESSSS.
It's in its second season and IMDb tells me that it aired in January 2015. It probably makes me supremely uncool to jump on the bandwagon so late in the game, but I need to share.

I first discovered Mark Duplass during a fit of insomnia. I was desperately perusing Netflix having believed I watched every possible mediocre indie movie, romantic comedy, and pseudo-gay/lesbian film in their collection. Or so I thought. I stumbled across "Your Sister's Sister"and figured I'd give it a whirl. I didn't think it was particularly remarkable but really liked the leading guy. After googling him, it turns out it was Mark Duplass, and he is like Hollywood's new "It" man. What? Where have I been?
It turns out L had been wanting to watch Togetherness for months, and I wasn't really paying attention to his pleading (nothing new). Once I heard Mark D. was in it, I was like, "WHY HAVE WE NEVER WATCHED THIS SHOW?" Pan to L rolling his eyes SO hard.
Now back to Togetherness. I love it. It's such a hot mess most of the time. Yet, it reminds us that not everyone has their shit together in their 30's and beyond and that, somehow, it will all be okay (hopefully). It takes place in Los Angeles and follows Brett (played by Duplass) and Michelle (played by Melanie Lynskey), a seemingly normal married couple with two kids. Their house is quickly turned upside down as Brett's best friend, Alex (played by Steve Zissis), a struggling actor, gets evicted from his place and moves in. Simultaneously, Michelle's sister, Tina (played by Amanda Peet), gets dumped by her latest hook-up and moves in, as well.
It's so funny and absurd, yet so heartbreakingly real. I feel like there's a vulnerability to the characters that makes me want to root for all of them! I rarely feel that way about a TV show. It has caused me to step back and think about being married with kids and moving toward middle age and what relationships in my life are meaningful…or meaningless.
I highly recommend checking it out, if you haven't already. It's on Sundays on HBO.
Anyone else watching Togetherness?