The Winter 2016 Stay-at-Home Mom Challenge continues…


MONDAY


It was a sluggish, gray, depressing day. I really wanted to just lay around the house. We had a busy weekend, and I was grasping at any excuse to stay home. At the same time, K seemed to be getting cabin fever and sitting around watching me do laundry and clean up wasn't cutting it. So we walked to the neighborhood park (yet again), and I watched her run around for awhile. Having a park so close to our place has been a lifesaver. It's not the best park ever, but it does the trick. The fresh air worked its magic and I was energized (yet again) for the long ass afternoon.
When we got back K enjoyed helping me water the plants and rode around on her tricycle, too.
I tried a new crock pot chili recipe as I am on a seemingly never-ending quest to make the best chili. We tried the Crock Pot Sweet Potato and Quinoa Turkey Chili by Iowa Girl Eats. It was a little sweet for my taste. I think if I make it again, I will substitute pinto and kidney beans for the baked beans. But, we enjoyed it and it was super easy to make!
TUESDAY


Today I went out on a limb and we had a playdate with some new friends. Ever since we moved across town, it has been hard to find a new friend group. I feel like I try and give off a friendly vibe, and I'm open to meeting new people, but, it's been a tough road. I have read this on other blogs and parenting sites before, but meeting new moms really feels like dating. The exhaustion of putting yourself out there, the potential of being rejected, the vulnerability, the anguish over trying to find your perfect mom/child soulmates. OMG. Anyway, we had a great playdate with some local moms, and there were good vibes all around. K played outside and got lots of fresh air! It has given me some hope that maybe there are some cool, nice moms out there after all.
I actually managed to fit in an afternoon workout. I haven't been as diligent with my workouts this month, and I can definitely feel the difference. I am not beating myself up, but trying to squeeze in workouts when I can. They are so important for mental and physical well-being!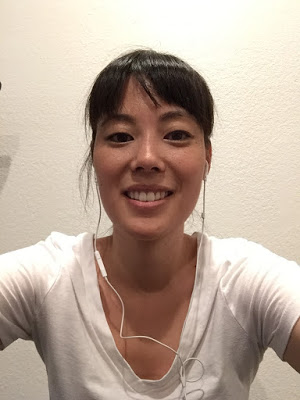 Sweaty evidence that I sweated.
Dinner was leftover chili over baked potatoes. I'm not great with leftovers. It's challenging for me to eat something for more than two meals. It feels so wasteful to throw out perfectly good food. But, I think we were tapped out on the chili after Tuesday night. K wasn't a fan of the chili, so she ate a baked potato topped with butter and cheese.
WEDNESDAY


Wednesdays are usually K's gym class. I procrastinated and failed to move K into the older kids class like I should have done weeks ago. So, today's class was sort of a waste of her time: tons of kids who were closer to one than two, and no one to really play with. We were also super late for class due to a traffic jam. K was overwhelmed by the overcrowded class and mostly disinterested. I felt like a crappy mom.
In somewhat related news, the other moms in this class are mostly unfriendly. There's one clique of moms that all know each other, and don't talk to anyone except themselves, and the rest are vacantly staring at their phones. Whatever. It wasn't our best day. But, we left the house, made it to gym, and even took a nice walk outside. I am counting that as a win!
Dinner tonight: Asian Noodle Bowls. I am trying out some gluten free recipes from Iowa Girl Eats this week because, in my imagination, I would love to be gluten free. Don't mind the fact that I ate tons of gluten for breakfast and lunch. Baby steps. By the way, the recipe name "Asian Noodle Bowls" kinda reminds me of Margaret Cho's "Asian Chicken Salad" stand-up bit. Too funny.
I'll report on how the Asian Noodle Bowls fared later this week!