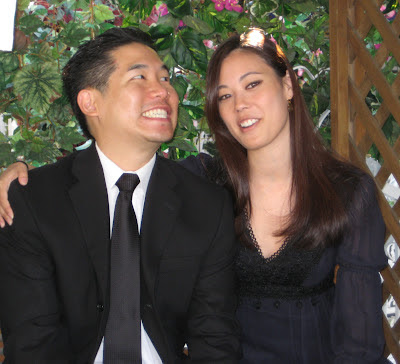 Us, a few years back.
Today marks our nine year anniversary of coupleness.
It is starting to get to the point where I am having a harder and harder time remembering what life was like without L. I don't know if that is romantic or kind of scary?! 😉
I met L, well, about nine years ago. He was the first guy to ever really treat me well. I wasn't used to it. I had low self-esteem around men, and got taken for granted a lot. I didn't seem to feel that way at the time, but now that I'm older, I see it. I was young, and didn't know myself at all. But, L was the first partner to make me feel like I really mattered.
Today, nothing has changed in that department. We've had a lot of high points and low points throughout the years, and L continues to listen. Even when my ideas and opinions (and emotions) are ludicrous, he still has a way of making them and me feel important.
Our lives are often chaos. There is always some bullshit going on. But our nights together are quiet, and there is a peacefulness that comes from being together for many years. I hope that we will continue to prioritize each other and make each other feel loved, listened to, and important.
I can't wait to see what is in store for the future.