I managed to live to see the other side of Mother's Day despite my causing quite the scene about it (see previous post).
I pulled myself out of "the funk" by taking my mom and grandma out to a fancy afternoon tea at the Biltmore. Many moons ago, L and I got married at the Biltmore. Turns out it is not only a fairy tale place to get married, they also put together a pretty sweet spread most afternoons with little chicken salad sandwiches, scones, mint tea, the whole nine yards. My mom, grammy, and I loved it!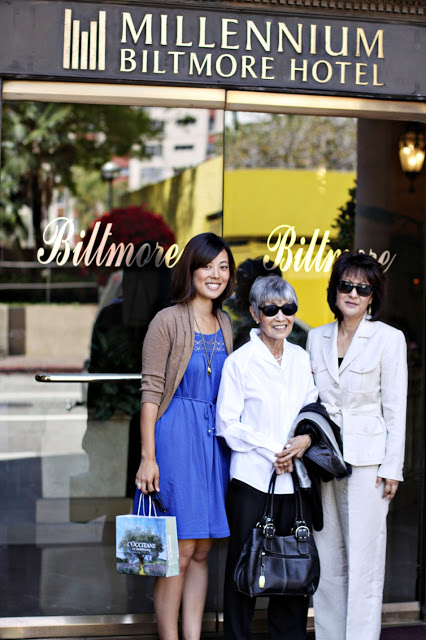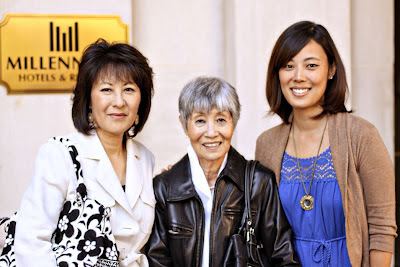 My mom, grammy, and me. You haven't seen my hair in awhile. I keep telling myself it's in a "transition phase". Truth be told, I haven't cut it in like five months, and I'm growing out my bangs for the 800th time which has been a royal pain in the arse.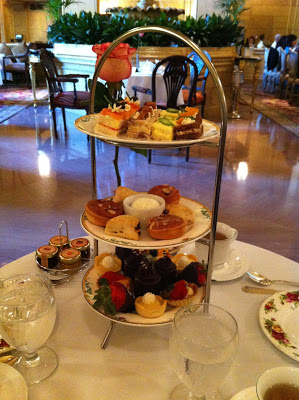 If you are ever in L.A., and have time to get pampered with tea and cookies, go to the Biltmore. It was the best way EVER to celebrate the two most important women in my life. We even saw a bride taking pre-wedding photos. I felt a rush of adrenaline and wedding day memories flooded back. I saw that nervous look in the bride's eyes, and I was delighted to play the spectator this time around. My bridal moment has passed.
After we were done pretending to be ladies who lunches, I said goodbye to mom and grammy, and met L in the hotel bar. We reminisced about our crazy wedding (almost three years ago!) over a dirty martini (him) and a glass of pinot noir (me). It was such a great memory that was promptly buried by the never-ending shit storm of my health problems, surgeries, financial woes, family issues, mental breakdowns, and our infertility. There has been a lot of sadness, anger, frustration, setbacks, and utter chaos. We have gone to bed many nights wondering when or if life would ever get better. Will we survive another day? Why did our new marriage get dealt so many blows?
So many questions. So many battle wounds. But we're still here, and we are learning that it does get better.
Once upon a time we got married, and it was amazing. We can finally truly appreciate that for what it is. I'm feeling so giddy, I may just break out that extended wedding video footage we never watched.
Ok, nevermind. Ask me again in another three years.