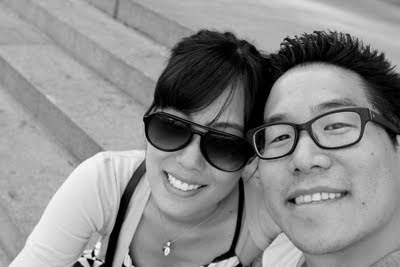 It's our second anniversary today.
It feels like forever since the day I wore that long white dress, yet simultaneously it feels like no time has passed at all. I remember hastily preparing our wedding favors a few days prior to the wedding when the news broke that Michael Jackson was being rushed to UCLA Medical Center. We were all in such shock, and told each other, "We will never forget this." I remember waking up next to L the morning of June 27, 2009, and feeling so elated and filled with nerves. I ran on adrenaline the entire day, and couldn't bring myself to eat a bite of food until the last guest had left the building. Then I pigged out like I had never eaten before in my life. I was a graceful bride. I remember taking that leap of faith into marriage, and hoping that L would be there to catch me. And he has been there. BIG TIME.
Two years is amazing, but L and I are most proud of the fact that we've been together for eight. We put greater emphasis on our dating anniversary than our wedding anniversary. Kinda odd, right? I think it's because, in our hearts, we became a family long before we said our "I do's" on this day two years ago. I don't know how else to explain it. Our memories reach back so far, and stretch so long.
I've grown up with this fresh faced college guy who in the blink of an eye became this husband of mine. We knew nothing about nothing, but we have done our best. That makes me really happy.
Cheers to us and many more anniversaries. I love you, L!