L and I are leaving for the beautiful East Coast soon! A dear friend is getting married, and it is also a great excuse to celebrate our SECOND wedding anniversary a bit early. Two years…what what! (Yea, I just said "what what" and raised the roof. Dork.) We are both really excited to see our friends, and also to have a few days to reunite with some old, familiar haunts. We really miss the East!
For the most part, I can't wait to go, but, I'm also feeling some definite anxiety. When my physical health went downhill, my anxiety levels skyrocketed. I could barely function without feeling like I was gonna barf or pass out. I became overwhelmed so easily, and for the first time in my life, felt like I had OCD and agoraphobia and who knows what else. Me? OCD?! (The college-aged Carly laughs hysterically.) But it's true. Everything in my life had to be as predictable as possible. I took comfort in the expected, and was terrified to step outside of my little world. Then I had a bit of a breakdown, but you already know that story.
An important thing I've learned about anxiety is that it doesn't really go away. Sometimes you forget it's there, but it never goes away. I have been so much better these days, but I still have setbacks. Lately, as the trip looms closer, I know I'll have fun once I get there, but getting me there is like Mission Impossible. I'm like a stubborn poodle who knows she's going to the vet and hides under the couch. Except, this is all supposed to be fun.
WTF?
I've broken it down in my head, and I think the plane ride makes me the most anxious. I don't mind shorter plane rides, but longer ones give me anxiety. This is laughable because I practically lived on planes at certain times in my life. In college, LAX to Hartford, CT was as second nature to me as brushing my teeth. Yet, here I am, suddenly scared of flying for absolutely no valid reason.
While I'm on this honesty kick, why not also share my irrational anxiety over leaving my dogs behind, too? I don't enjoy leaving my dogs alone for the day, let alone several days. Arrangements have been made, and they will be well taken care of, but I'm still a total spaz about it. I have like 1,000 pictures and videos on my iPhone of my dogs.
I'm the crazy dog lady.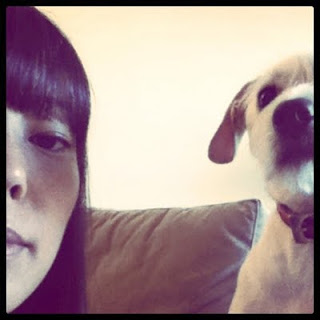 But, seriously. It's quite hard to be away from them. Don't judge me too much, okay? Okay, judge me if you must.
Here's how I deal with travel anxiety and anxiety, in general:
1.) Sloooow down. Deep breaths.
I try and catch my breath and clear my head for a moment. Maybe take a sip of water or Ginger Ale, if I can. I'll read mindless websites like People.com or play a game on my phone. I like Fruit Ninja and Tiny Wings. Anything that will help distract me from my anxiety.
2.) Sometimes I'm beyond catching my breath, and feeling panicky, overheated, and scared.
In these situations, I usually excuse myself from whatever situation is giving me anxiety. I try and get some air or turn the air conditioning on high. Heat makes me wig out more. I've also found that giving myself a shoulder/neck rub helps me calm down.
3.) If nothing else works, I resort to these little blue pills my doctor prescribed for me.
They're beta blockers, and they slow my heart down. My heart races when I'm super anxious, and sometimes I get palpitations out of nowhere. Me no likey palpitations. So the pills help slow things down.
Anyone else out there with travel anxieties? How do you deal with it?