The supermarket is a great place to judge social behavior. A lot goes down within those stocked aisles. I'll admit it. I judge people.
When you hit me with your cart and don't say "excuse me" or "sorry", I judge you.
When you stand in the 15 item or less check-out with 25 items, I judge you.
When you cut in line at the deli counter, I see you cut…then I judge you. The worst offenders are the ones who say, "Oh, there's a line?!" No, there's no line. All of us are just standing here in line formation with our thumbs up our butts for our health.
But never have I felt such a strong urge to bop someone on the head until I was confronted in the salad bar by this bozo.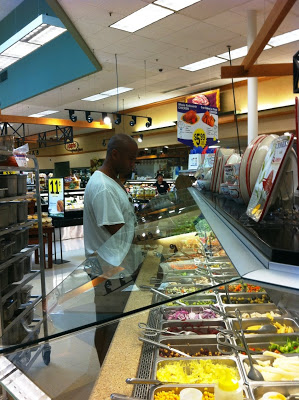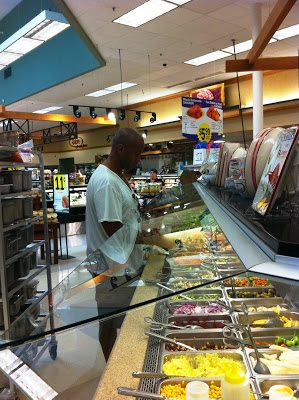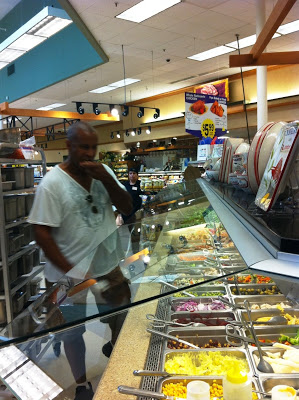 That's right. I got all OMGMom on his ass, and got cell phone picture proof.
This guy had the balls to stick his dirty ass mitts directly into the food bins. The same salad bar that I happened to be at.
Did my presence stop his freeloading? Absolutely not.
At first I thought he was just sampling something for taste. Wrong.
The guy came back time and time again. While I was there, he served himself at least six times. He did it in front of the lady re-stocking the salad bar, the guy making sushi, and various other customers.
The nerve!
I shot him a few dirty looks, but didn't say anything. I was too busy standing there stunned and taking stealthy pictures. After I finished my picture-taking, the thief was gone for good. Maybe he was full? Or maybe he was off to Costco to hog down on some samples?
What would you have said to/thought about the salad bar thief?