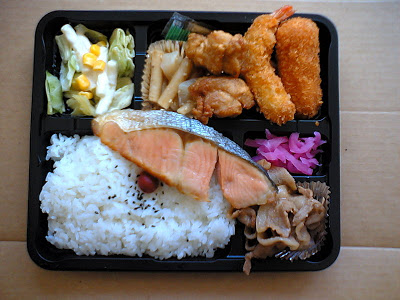 source
L works for a firm that is largely Japanese. His coworkers are all really nice people. They take pity on me, because they know that although I'm Japanese I am terribly out of touch with my homeland culture. Also, they think I'm cool because I am full Asian and speak perfect English. I think I act inappropriately at times (maybe too brazen for a traditional Japanese woman), but they laugh and generally make me feel good about myself. I like them. They also came to our wedding and formed a dance train at the reception. Yes, I like them very much.
Anyway, many of the married Japanese men bring their lunches to work rather than go out. By bring lunch, I mean that their wives cook gourmet Japanese food the night before or wake up early to fry things, make sushi, and mix concoctions for their husbands' bento box lunches.
When L told me about this, I found that my way of slithering out of feeling bad that I didn't slave over the stove all night to make my husband lunch, was to convince him that going out to lunch was good for him. He needs some fresh air, some social time, and it is nice to leave your desk every once in awhile. It's true, right? Well, my plan foiled when eating out daily became a strain on our budget, and he decided he wanted to bring lunch a few times a week. Crap, now what?
I swore that when I was married I would never ask myself these questions, but here I was, asking. "Am I supposed to make my husband lunch?" I had never really thought about this before, because frankly in American culture, this isn't really the custom. Moms make lunches for their children, but their husbands are mostly on their own. Also, did no one get my memo? I'm the LESS than domestic goddess. Being domestic isn't my bag. "Umm, honey, do you want leftover Papa John's pizza or peanut butter and jelly?" Seriously, if I'm feeling fancy, maybe it's grilled cheese.
For some reason, this whole situation gave me a bit of wifely anxiety. However, I rationalize it as this…
If I start making L fancy lunches and sandwiches with the crusts cut off, what is going to happen one day if/when I STOP doing that? I would be creating a system of high expectations that, knowing myself, I would likely flub it all up at some point. I'm not a high expectations kind of girl. Okay, that sounds terrible. How about this rationale? My husband is an adult. I make my own daily lunch arrangements. He should, too. He's not going to love me any less if I don't spend two hours a day making him lunch.
Late one night, L and I were chatting and I incoherently blurted out all of my thoughts on this lunch subject. He laughed at me, and said that he had already made his lunch for tomorrow and stuck it in the fridge.
Part of me was very happy that he understood. Another part of me still felt a gnawing feeling that he would be sitting there at lunch eating a bologna and cheese while his coworker dined on salmon rolls and chicken katsu. I know I'm being stupid. I have mostly gotten over it. But still, despite the cultural differences, maybe I let wifely expectations get the best of me?
Have any of you married folks been in a situation that has made you feel like a sub-par spouse?