For the past few years, L has become a master at booking nice hotels at cheap rates. His secret? A little tool called Priceline.com. If you haven't used Priceline's bidding system, let me tell you, you are missing out…BIG TIME.
Due to our two years + long distance relationship, we've driven cross country from LA to NY and back a number of times (pre-despicable gas price era…though per gallon rates have fallen quite a bit lately, don't you think?) Along the way, we've stayed in luxurious 4 and 5 star hotels in Denver, St. Louis, Chicago, San Diego, etc. for 1 star prices (often much less than $100 per night)!!
There are some downsides. These mentioned deals are not always readily available in big cities like New York City, LA, San Francisco, and others. Additionally, it takes a bit of trial and error. You need patience to manuever through the process. Depending how you bid, days can go by before your bid is accepted. But all in all, Priceline.com has made it possible for us to spend several wonderful nights in high end hotels all across the country. So, I'm not one to complain.
For example, this weekend L and I had the good fortune of spending our time at the Trump International Tower in Las Vegas. If you aren't familiar with the Trump Hotel (I know I wasn't), check out these pictures:
The Standard Room had its own kitchen with a stovetop, refrigerator, microwave and sink. It also included a sitting area. The room was huge!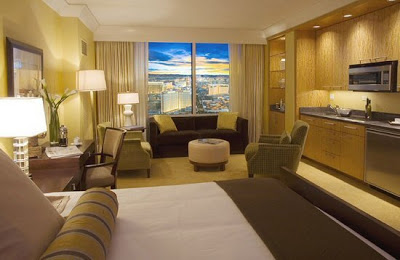 The bathroom included a TV in the mirror and a jacuzzi tub. Umm, I think Trump and Friends read my mind when they designed this bathroom!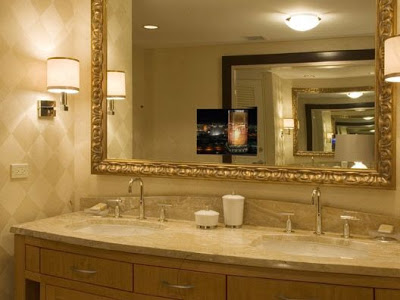 Here's a dinky picture I found of the lobby that simply doesn't do it justice. The actual lobby was pimped out with beautiful furniture, several beautiful chandeliers and fresh flowers.

In addition to all of this, we got a room with a view of the strip (normally $40 extra) for free. The hotel was situated across the street from the best mall ever. And, it's a non-smoking hotel with no casino of its own. Have I convinced you to stay at the Trump pad yet? 🙂 As a side note, we were reminded of the bad economy all throughout Vegas – the place was practically a ghost town. It was nice to avoid the crowds, but still a bit creepy. I've never seen it so dead. Anyway, I reveal this little non-secret to urge you to take advantage of discount sites when booking a hotel for your honeymoon, bachelorette party, vacation, or weekend getaway. It's worked for us, it just might work for you. Do you use any cheap travel sites to book fabulous hotel rooms? Do you use Priceline?