I was compensated by Med-IQ through an educational grant from AbbVie Inc. to write about the realities of endometriosis as a chronic disease. All opinions are my own.
This is the second post in my endometriosis collaboration with Med-IQ. Please see my first post for my personal diagnosis story and to learn more about the signs and symptoms of endometriosis.
The purpose of this second post is to provide resources for individuals who are concerned about endometriosis and want to determine the best level of care for themselves. My hope is that you can walk into your appointment armed with the information you need to find a treatment plan that works for you.
Why am I working with Med-IQ?
Med-IQ is an accredited medical education company that provides an exceptional educational experience for physicians, nurses, pharmacists, and other healthcare professionals.
Med-IQ also believes in empowering and educating patients. Their patient education initiatives are aimed at building communities and providing better outcomes for patients everywhere. Their mission really resonated with me. As an individual who lived with the symptoms of endometriosis for more than fifteen years before getting diagnosed, I wish I had been armed with the proper resources to be my own best advocate. It is my hope that by sharing my story and also sharing information about endometriosis that it will enable others to seek a proper diagnosis.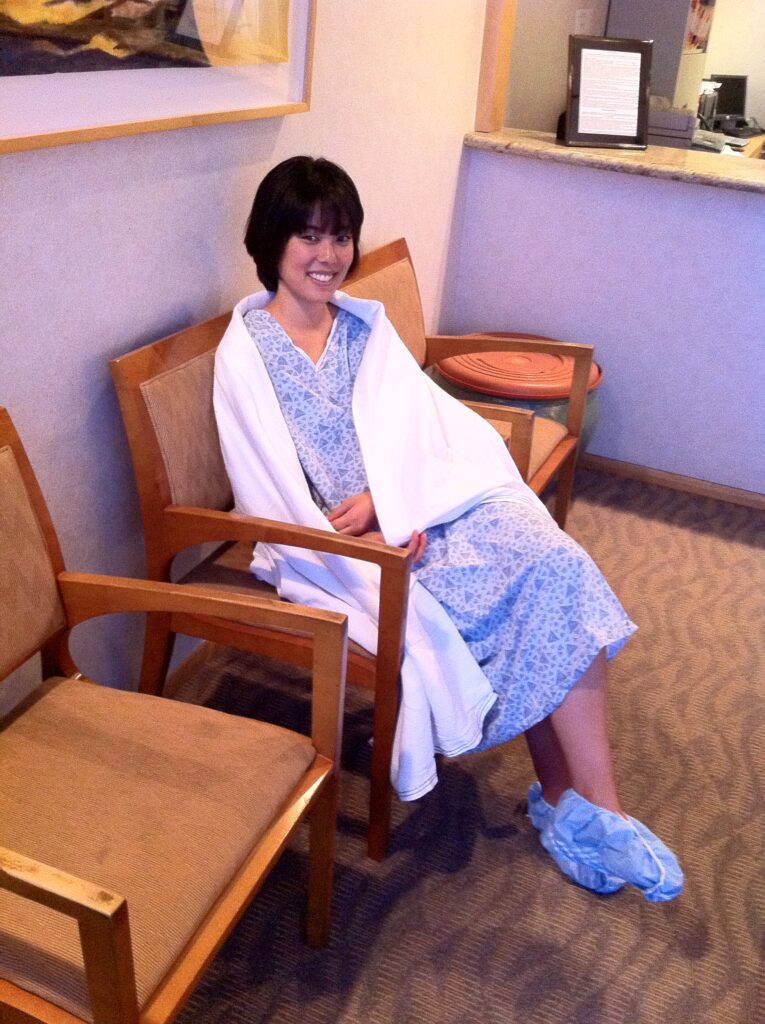 Finding a Healthcare Provider
Prior to my endometriosis diagnosis, I spent a great deal of time suffering with painful periods and getting nowhere with my general practitioner. It wasn't until I started doing my own research and seeking out more specialized care that I found an OB-GYN who helped me. My journey with endometriosis care didn't end there and is ongoing. We moved from California to Washington, and I needed to find a provider that specialized in endometriosis care. I recently found out that my doctor here in Washington retired. So, I am back in research mode looking for a new healthcare provider again. This is the reality of endometriosis care. Your care team may change as the years go on, and your needs may change as well.
A few months ago, I had the opportunity to sit in on a talk with Dr. Erin T. Carey, OB-GYN and Division Director of Minimally Invasive Gynecologic Surgery at the University of North Carolina at Chapel Hill. Dr. Carey provided some great tips for talking to your provider about endometriosis. She also noted that women do not have to wait for a doctor to recommend that they see a specialist. They can and should ask.
Dr. Carey recommended the following databases for help in finding a doctor and/or specialist*:
American Association of Gynecologic Laparoscopists
International Pelvic Pain Society
My personal recommendations that have helped me find a doctor/specialist*:
Endometriosis Research Center (I searched for my local chapter "The Greater Seattle Endometriosis Research Center" and joined their Facebook group. I found several referrals for doctors and specialists in my area.)
Once you have an appointment booked, here are some tips for talking to your doctor about endometriosis.
Checklist for Talking to Your Healthcare Provider About Endometriosis
First and foremost, find a healthcare provider who will listen to your concerns and value you as a patient.
Talk to your provider about your reasons for pursuing endometriosis treatment. Here are a few common reasons for treating endometriosis:

Pain
Infertility or sub-infertility
Progression of the disease

Talk to your provider about your short- and long-term goals for treatment.

When it comes to goals, Dr. Carey recommends thinking about the impact of endometriosis and your quality-of-life. Consider the impact of painful periods, fertility desires, and non-period-specific symptoms that can come with endometriosis.

Talk to your provider about the different options for treatment plans (see below for treatment options).
Treatment Options
The chart below, provided by Med-IQ, outlines different treatment options for endometriosis from least invasive to most invasive. It is important to note that a treatment's effectiveness differs from person to person. What works for one person may not work for another.
Downloadable Endometriosis Treatment Options provided by Med-IQ: https://asset.med-iq.com/file/AB128-Simplified-Intervention-Graph.pdf.
My Personal Experience with Treatment Options
I am constantly researching lifestyle changes to treat endometriosis and have tried several different diets and exercise plans. I do my best to stick to an anti-inflammatory diet most of the time. I also try to incorporate walking and light cardio into my weekly routine. I've found that high impact cardio exacerbates my symptoms. While diet and exercise haven't done much to alleviate my painful periods, they have improved my quality of life.
I have experienced some relief from my symptoms with non-hormonal medications and hormonal medications. Birth control helps keep my period pain bearable and is the only longer term "solution" I have found for my symptoms. I am considering excision surgery and am currently researching excision surgeons in my area.
Survey
Med-IQ is conducting an anonymous survey and would appreciate your input. The survey will take less than 10 minutes to complete. Survey responses are shared only in aggregate. Your responses to these survey questions will provide Med-IQ with important information about your experience with endometriosis, which will help us develop future educational initiatives.
Once you've completed the survey, you will have the option of providing your email address to be entered into a drawing administered by SOMA Strategies to win 1 of 8 $100 VISA gift cards. If you choose to enter, your email address will be used to randomly draw the winners and notify them of their prize. 
* Links to external sites are provided as a convenience and for informational purposes only. They are not intended and should not be construed as legal or medical advice, nor are they endorsements of any organization. Med-IQ bears no responsibility for the accuracy, legality, or content of any external site. Contact the external site for answers to questions regarding its content.