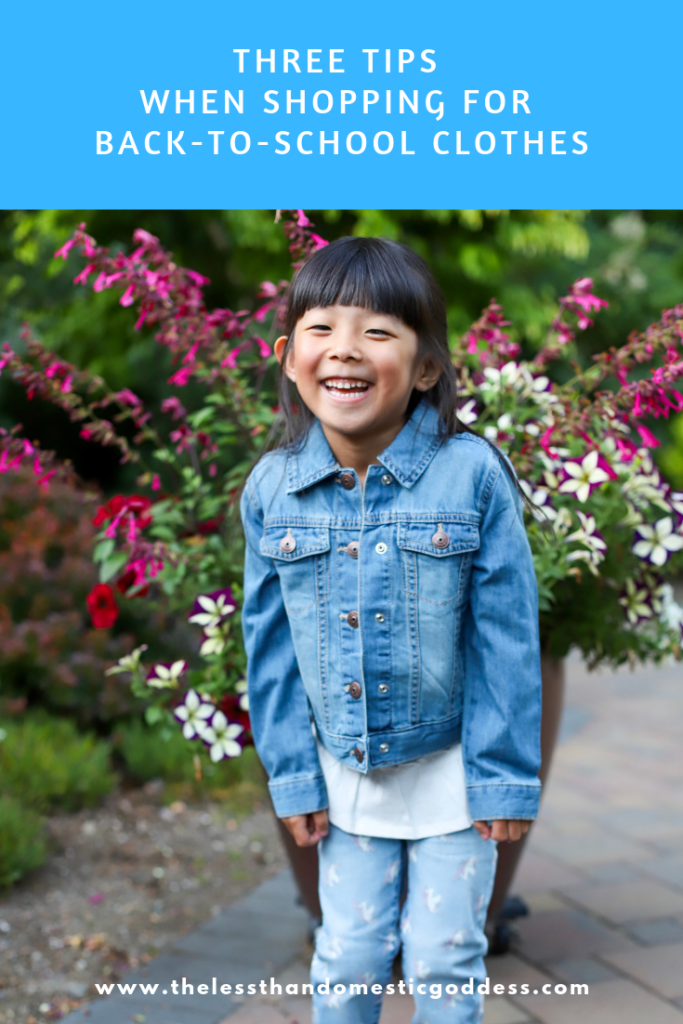 This post is in partnership with OshKosh B'Gosh (#OshKoshKids). All views expressed are my own.
Recently, I took Kaia on a shopping trip to the OshKosh store to find some new school clothes for her first day look and beyond. I still have my first pair of OshKosh B'Gosh overalls that I wore as a baby, so OshKosh clothing holds a special place in my heart.
Kaia is starting kindergarten soon, and having pieces that help her feel comfortable and confident are really important! When I am looking for school clothes for Kaia, I look for pieces that highlight her sense of style. At five years old, Kaia knows what she likes and what she doesn't like when it comes to clothes. I want her to be her best self at school. Whether she's on the playground running around with friends or sitting on the floor in the classroom learning new things – her clothes have to move with her and make her feel great.
Look for Easy-to-Wear Styles with Room to Grow
Kaia feels comfortable and confident in clothing that feels good against her skin. These pieces from OshKosh's latest back-to-school collection are great quality. They are perfect for energetic little ones who want to jump and play!
I try to buy clothes a little big so she has enough room to grow into them. But, I don't want them falling off her! Kids grow so fast and it can get expensive if they constantly grow out of things.
Kaia is slim and long. In the past, we have had some trouble finding shorts and pants that fit her properly. These shorts are perfect for warm fall days! The fit is great, and the waistbands are all adjustable. They will grow with her! I also love that they are a "pull on" style which means no need for zippers or buttons. I just know she will reach for these clothes time and time again.

Bring Your Child to The Store with You
It can be tough to shop with kids in tow. I totally get it. When Kaia was a baby, I mainly shopped online for her clothes. These days, I still shop online for her, but I like to take her in store as well. Letting Kaia pick out one or two pieces that she loves is good for her self-esteem and independence.
On our trip to OshKosh, I found that she was really inspired by all the patterns, styles, and colors around her. She was excited by the sequined tee shirts, the unicorn patterned pieces, and the glittery shoes.
Shopping together was a bonding experience for us. It was also a chance for Kaia to start picking out clothes she loves while having fun, too. OshKosh is a family friendly store! She loved playing hopscotch and also seeing and touching the clothing for herself. Since we chose pieces that she loved, I know she will get such good use out of these clothes! She even commented to me that she can't wait to wear all her clothes to school.
Trying on clothes together also helps to highlight the fit and comfort outlined above. You can be sure your child is comfortable and the material doesn't bother their skin.
Fill Their Closet with Clothes They Love
Most parents have experienced at least a few disagreements with their child over their outfit of the day. In our house, we are no different. However, I've found that filling her closet with clothes she loves helps to lessen those battles and frees up more time to enjoy our mornings together.
These sequin tees are a big hit with the kids! Kaia wants all the sequin tees so she can show her friends at school. I love that a tee shirt can make her so happy.
OshKosh's back-to-school collection has something for every child! It's the perfect place to get all your back-to-school clothes, shoes, and accessories! As a special gift for my readers, please use this coupon to get 20% off your next OshKosh purchase of $40 or more in-store and online.
Online Promo Code: OKBG4069
Retail Code: 038998