This post is sponsored by Gillette (#gillettepartner). It also contains affiliate links. All opinions are my own.
It can be tough shopping for men! But, when in doubt, always defer to practical gifts. That's what I've learned throughout the years. I put together a gift guide with all the men I know in mind. These gift ideas are easy, affordable, and, most importantly, items I think my husband, brothers, and dad would appreciate and use.
I am so excited for my husband to find the Gillette MACH3 Turbo and Fusion ProShield limited edition gift packs under the Christmas tree! He's spent some time trying out different types of razors, and always goes back to Gillette MACH3 for its smooth, comfortable shave. Each pack is just $19.99, and both gift packs are available at Walmart in store and online.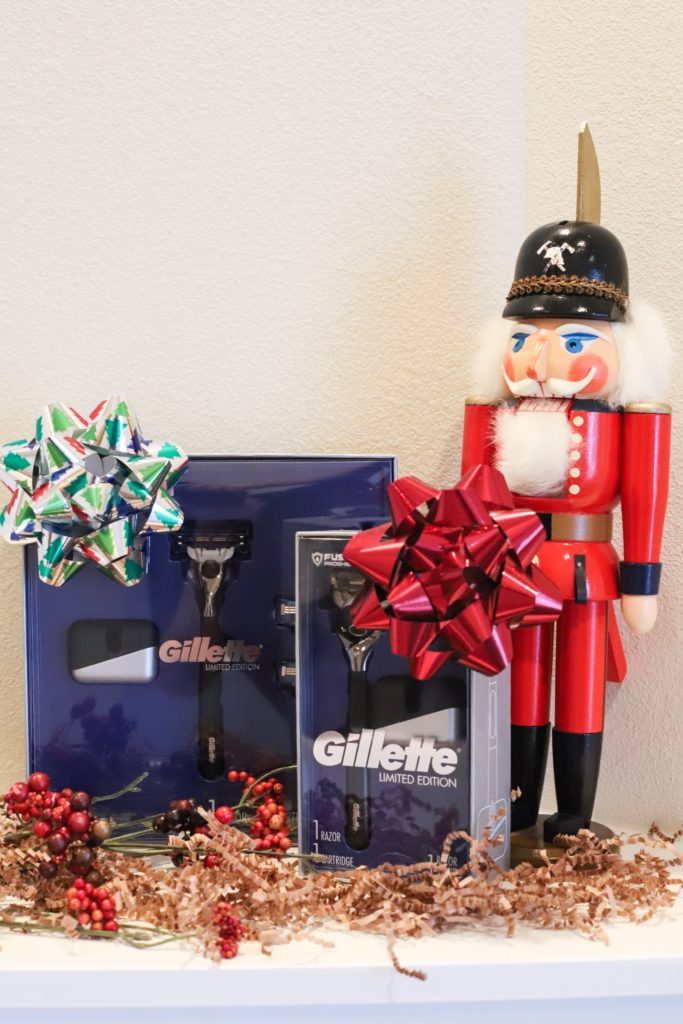 The gift packs come in two different cartridge options: MACH3 Turbo and Fusion ProShield. The MACH3 Turbo gift pack includes the Limited Edition MACH3 Turbo handle, Limited Edition razors stand, and 3 MACH3 Turbo cartridges. There is also a gift pack with Fusion ProShield which includes one 5-bladed cartridge. The razor handle is a sleek matte black which is the first of its kind offered by Gillette! They also come packaged in a nice box. Wrap it or stick a bow on it and you're ready for gift giving!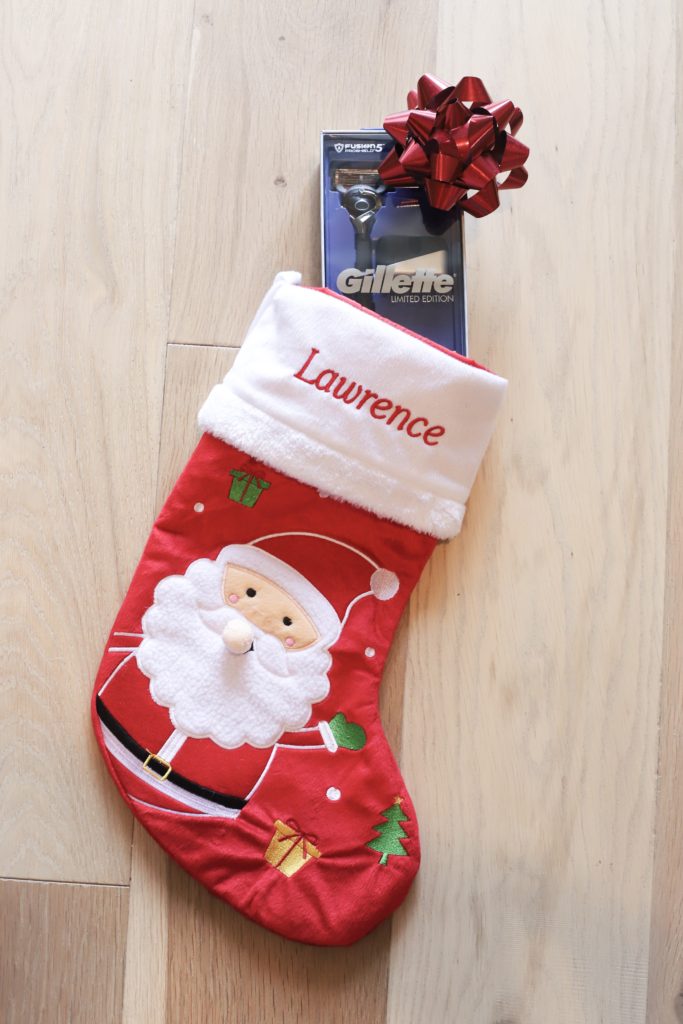 You can find these Gillette limited edition gift sets at Walmart either online or in store. We pick up all of our favorite Gillette products at Walmart!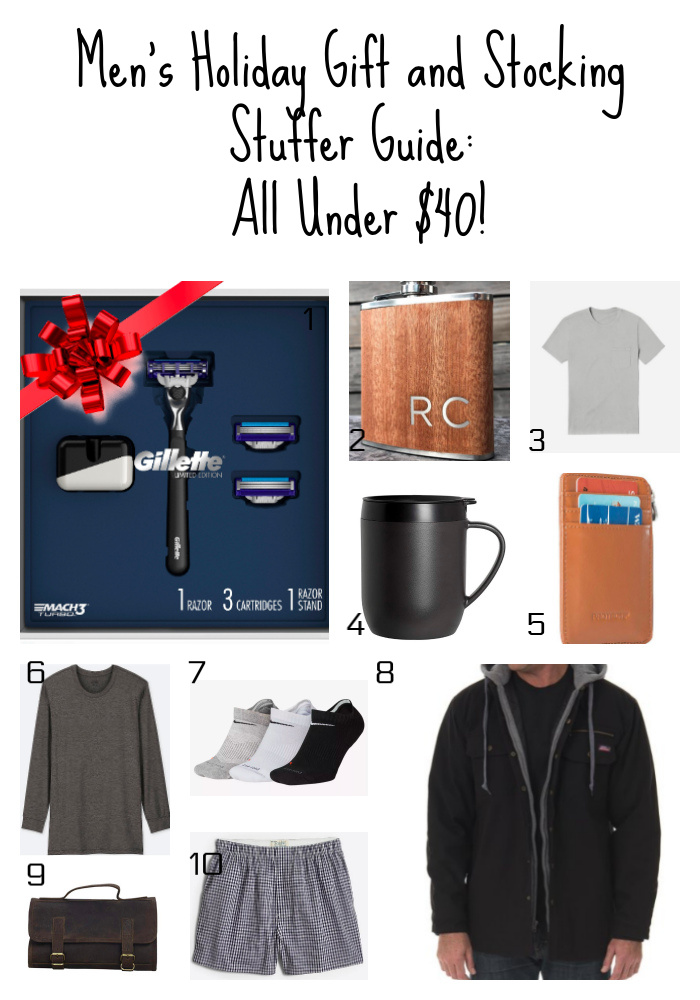 1) Gillette MACH3 Turbo or Fusion ProGlide Razor Gift Pack – For just $19.99, these limited edition Gillette gift packs are available at Walmart in store and online.
2) Personalized Wooden Flask – I love these personalized wooden flasks! My brother suggested I add a flask to my gift guide, and I couldn't agree more. For under $20, this one is a special, personal gift that doesn't break the bank.
3) Cotton Pocket Tee – The most basic t-shirt. Everlane's quality never disappoints, and this is a "must have" for every man's wardrobe.
4) Travel French Press and Coffee Mug – Perfect for busy mornings on the go! This cool mug makes it easy for anyone to brew their own coffee and take it with them. Almost all the men I know are coffee drinkers, but for those that aren't, it works great for tea and hot chocolate as well.
5) Leather Pocket Wallet/Card Case – A slim card case is a necessity for any modern man. This one is great for travel and has built in RFID protection. My husband travels internationally quite often and could use this card case!
6) Crew Neck Long Sleeve Tee – This is the perfect winter weather gift for men of any age. My dad just turned 70 and wears Uniqlo! The HEATTECH technology in this shirt allows you stay warm, but isn't bulky. It even has a self-deodorizing feature that keeps unpleasant odors away.
7) No Show Socks – Socks are the perfect stocking stuffers! These Nike socks are fancier than your average Hanes socks, and are my husband's favorites. They cushion your feet and keep them dry!
8) Shirt Jacket – We can't get enough cold weather jackets up in Washington. This one is easy to wear, warm, and goes with everything! For less than $30, you can't really go wrong.
9) Hanging Toiletry Bag/Travel Kit – This is another great gift for the traveling men in your life! No more throwing toiletries into plastic or ziplock bags. This toiletry bag is spacious with several different compartments. It rolls up and is quite compact, too!
10) Gingham Boxers – Boxers are another good stocking stuffer, but at this great price, you could buy several pairs, wrap them up, and it counts as a gift! It's also the perfect time to go through and throw out any underwear that needs replacing.
I hope you found this gift and stocking stuffer guide helpful when shopping for the men in your life! What is your "go to" gift for men?