Here is my guide for the cutest Old Navy toddler girls picks for Spring 2018! Old Navy is currently having a 40% off sale with the code STYLE. Free Shipping on orders of $25 or more with code FREE SHIPPING. Also, a free tote with purchase with the code TOTALLY. (Ends today 3/26). I almost always hold out for their 40% sales. I'm not alone here, as everything seems to be going really fast! Some of these items are sold out in certain sizes.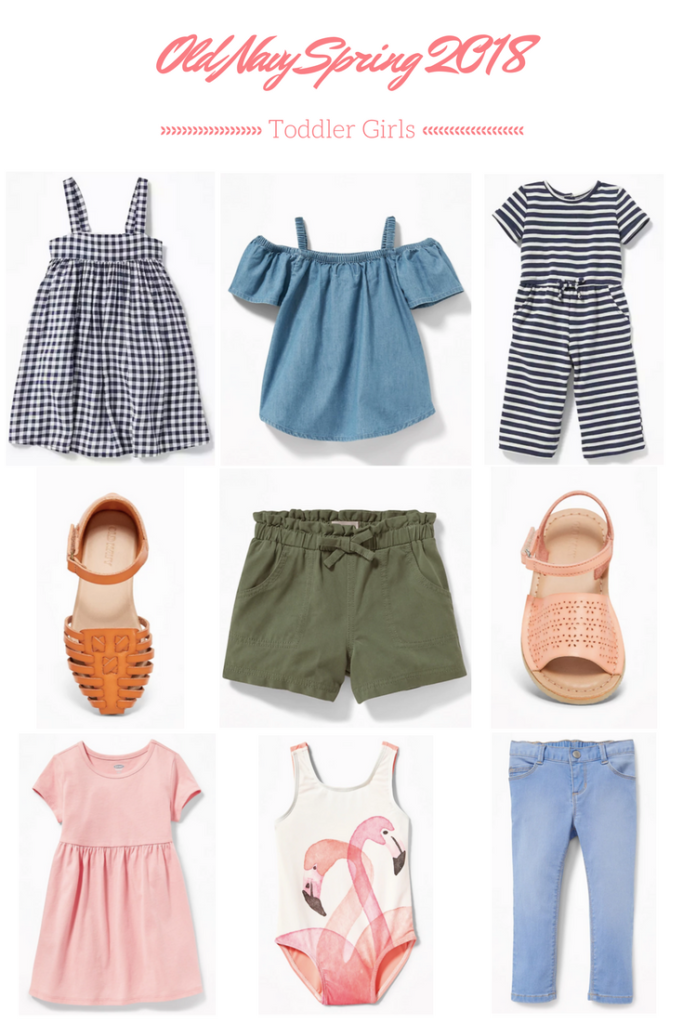 Printed Sundress in Blue Gingham
I can't say no to gingham, and this dress will last all through the spring and summer months!
Off the Shoulder Chambray Shirt
I love this adorable take on a chambray blouse! We've ordered off the shoulder blouses from Old Navy before, and they were super cute!
French Terry Wide Leg Jumpsuit
This is the sweetest jumpsuit ever! Pair it with a denim jacket.
Pointy Toe Huarache Flats (only available in lavender color)
These pointy toe huarache flats are perfect for the warmer weather. They go with everything!
The perfect little utility shorts that will match everything. I can't resist them in olive.
If you had your eye on the huarache flats and didn't get them in time, these faux leather sandals are SO cute and available in most sizes.
A perfect no-nonsense staple for your little girl's spring closet.
We are fans of Old Navy swimsuits. I love the flamingo design!
I buy a pair of these ballerina skinny jeans every year. They run snug, and work well for slim toddlers.