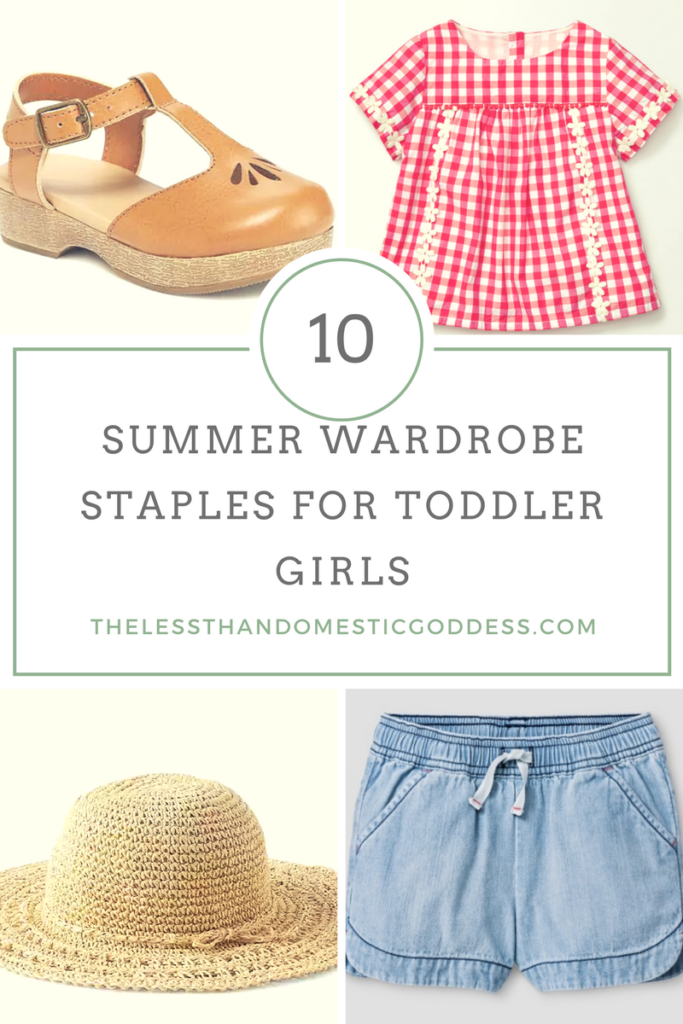 I've put together a list of ten basic summer pieces for toddler girls. When I am choosing a core group of pieces for any season, I try to pick neutrals that I can mix and match with as many t-shirts, blouses, bottoms, and shoes as possible!
Gingham Blouse: Gingham reminds me of summer BBQs and picnics. A gingham blouse can be paired with jean shorts or a jean skirt for an adorable Fourth of July look.

left, middle (sold out from Zara), right
Short-Alls: A plain tee or tank underneath and you're good to go.

Rompers: When my daughter, Kaia, was younger, she lived in rompers all summer. Now that she's three, this could be her last summer of rompers. Ok, maybe I'll push it to four.

A Straw Hat: Super cute sun protection! I recently bought a straw hat for myself. I can't wait to match with Kaia!

Denim Shorts/Skirts: My daughter wears jean shorts all summer. We mix and match with tanks and tees for an easy, summery look.

A Cute Swimsuit: Target has adorable toddler swimsuits for great prices! We have also gotten lucky with Old Navy and Gap.

Neutral Shoes and Sandals: I can't get enough of Old Navy's neutral sandals this season! I finally caved and ordered the clogs that I've heard so much about for the past year or so.

A Basic Dress: I normally buy Kaia two to three new dresses per season. Dresses are more special occasion in our house than every day wear. I like to spend a little more and get quality pieces.

A Denim Jacket: We didn't have much use for a denim jacket during the summer in Los Angeles. Now that we are in the Pacific Northwest, jackets are necessary for chilly days and evenings.

Sunglasses: Sunglasses are my favorite toddler accessory. Kaia is finally at the age where she will wear them for longer than ten seconds! Target and Old Navy always have a cute selection.