If you follow me on Instagram and Twitter, you know that we were in Hawaii last week. It was our first "big" trip as a family and our first time in Oahu! A few months back, I got an email about Virgin America's new non-stop flights from LAX to Honolulu and Maui and took it as a sign that we needed to plan a trip. Somehow it all came to fruition! We lucked out because my in-laws have a timeshare in Waikiki and we were able to stay there. (A huge money saver for us!)
I've been a little overwhelmed as to how to organize the trip photos. So, I'm just going to share the highlights with advice and commentary about what we loved, liked, and felt "meh" about.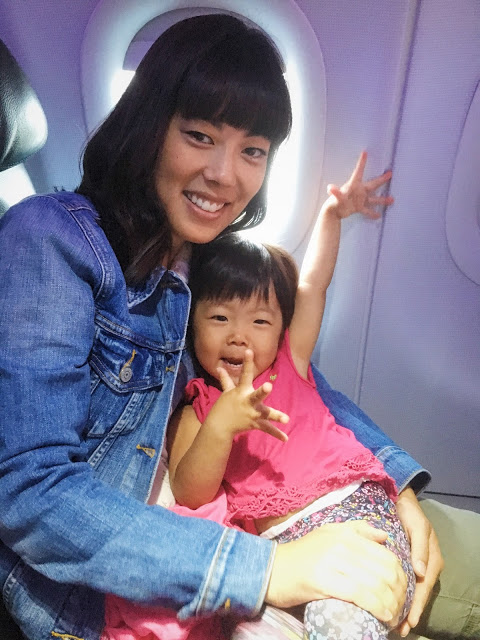 We touched down at the Honolulu airport on Saturday late afternoon. After a five+ hour flight, we were running on fumes. We were ecstatic that K took a TWO hour nap on the plane: my early Mother's Day present, for sure! Once we landed, I sat with K in the baggage claim with all of our suitcases, stroller, car seat, and carry-ons while L went to pick up the rental car. Doing it this way really helped us out because we had a lot of stuff and we didn't want to have to haul it onto the airport shuttle and then over to the car rental place. Car rental pick-up ended up taking forever so it was even better than L went alone.
We brought our own car seat with us and checked it at the gate. Renting a car seat can be expensive, and I wanted K to have the comforts of her familiar car seat. It worked out great! Since we have plans to travel with the car seat in the future, we bought
this cover
for the car seat and
this cart
so we were able to easily roll the car seat around the airport.
Leonard's Bakery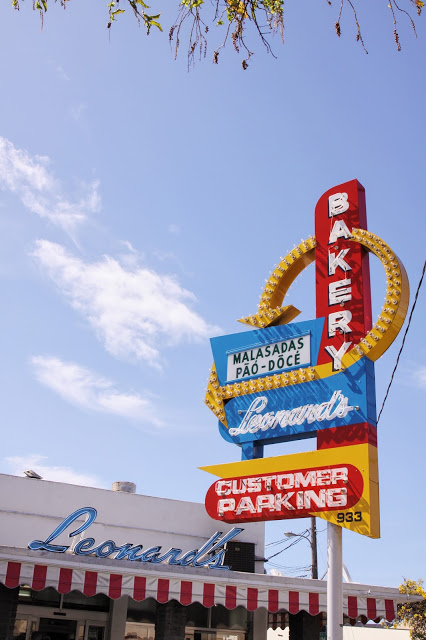 The next day was Mother's Day! We woke and went straight to
Leonard's Bakery
for malasadas (a Portuguese fried dough pastry). We had never tried them, and they did not disappoint. I loved the original – plain with cinnamon and sugar! So good and worth every calorie. We intended to go back later in the week, but sadly ran out of time.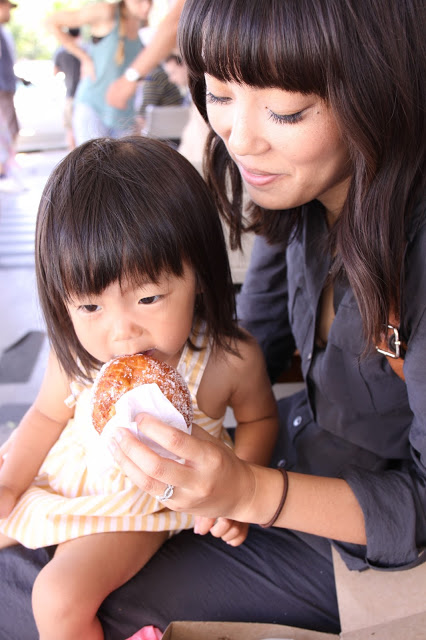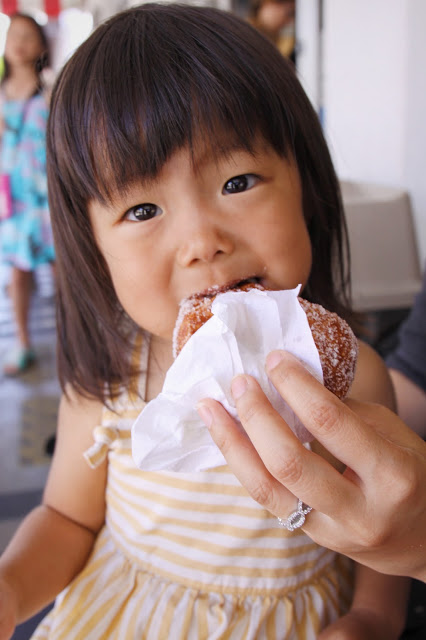 Since it was Mother's Day, I got to choose our daily activity. I decided I wanted to venture out to the beautiful, lush tropical forest of Waimea Valley on the North Shore. I had seen a photo in a tourist brochure and felt like it was a must see. It was about an hour drive from Leonard's. Before we got to Waimea Valley, we stopped off to peek in some roadside boutiques on the North Shore to pick up some flip flops for me (I wore my Birkenstocks and didn't want to drag them through the mud). Lucky for K we ended up eating our first shave ice of the trip!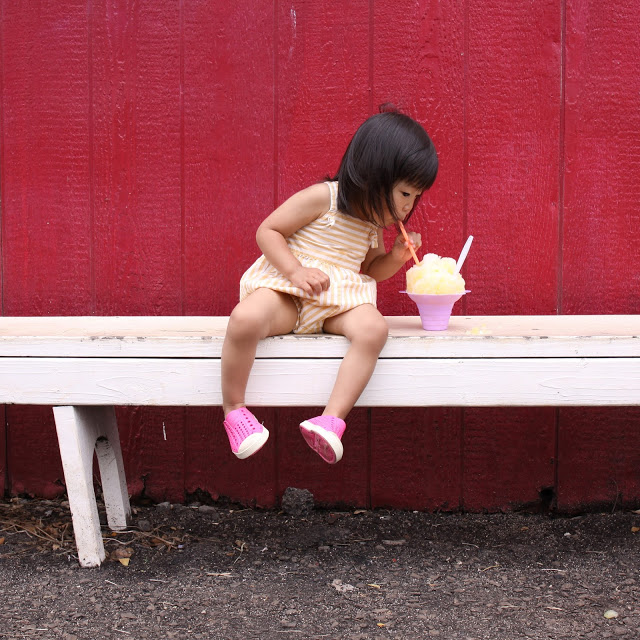 Waimea Valley
Waimea Valley was so lush and gorgeous. It's a sacred, spiritual place, and you can feel that when you're there. The staff at the visitor's center were so friendly and welcoming. It was really busy when we arrived, because everyone was eating Mother's Day brunch at the nearby restaurant. We also hadn't really done our research and quickly realized that Waimea Valley involved some basic hiking to get to the waterfall. We were wearing flip flops! We decided to pay the entrance fee to the park anyway. I was really worried about mosquito bites, because traditionally mosquitos love me. And, of course, we didn't have bug spray on us.
My advice for anyone venturing to Waimea Valley is to apply some bug spray beforehand or wear long pants and close-toed shoes! L had tons of big, itchy bites the next day. I, somehow, escaped with only one small bite, and K didn't get any bites (despite her arms and legs being completely exposed).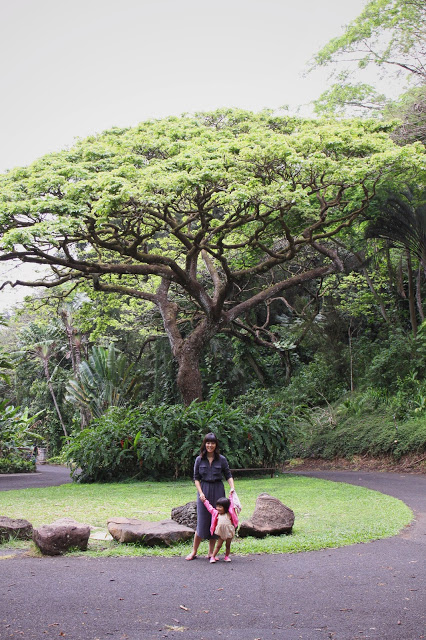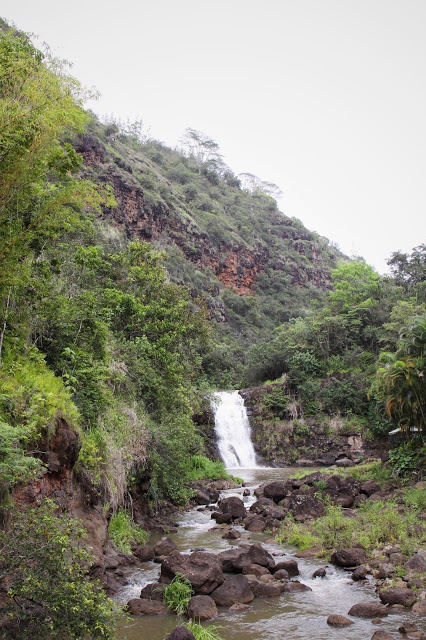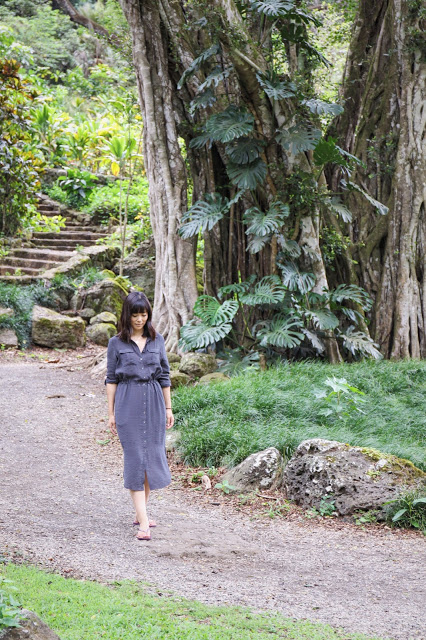 We discovered that the hike wasn't really a hike at all. It was do-able in flip flops pushing a stroller! I loved Waimea Valley, and would recommend it if you love lush valleys and have the time to really explore and appreciate the outdoor setting. There were a lot of paths and secret places that we didn't see, because we weren't prepared to stay there all day.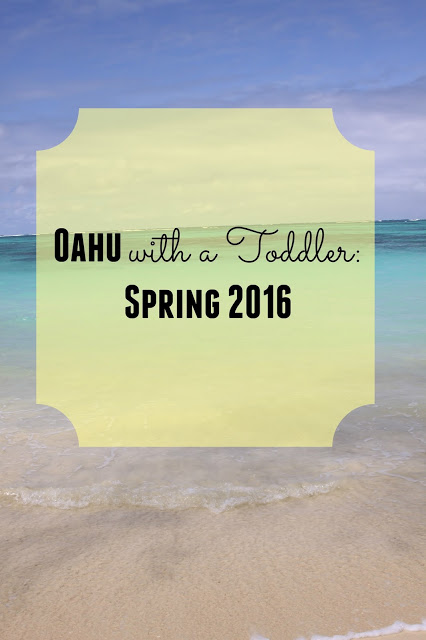 Up Next: Our Favorite Beach