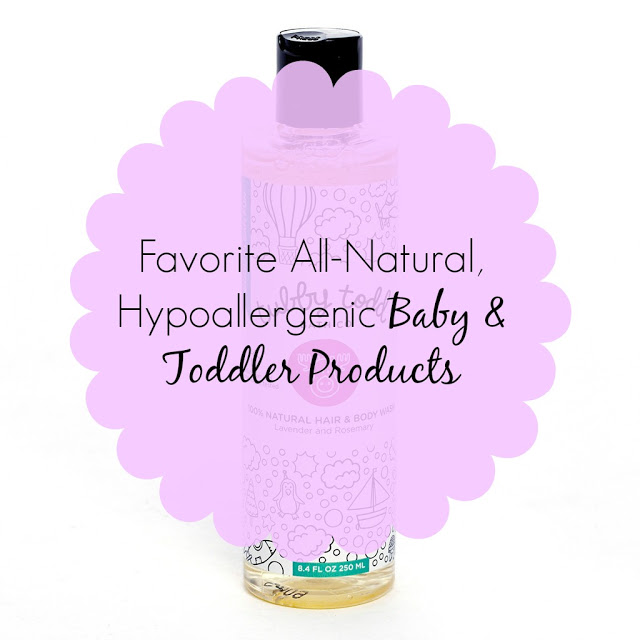 I thought I would share some of our favorite all-natural toddler products that help get us through our days. K has sensitive skin like a lot of young children. She doesn't have eczema or any known skin allergies, but she is prone to diaper rash and the occasional itchy spots. I try to select quality hypoallergenic products that are mild and made without parabens, sulfates, toxins, or phthalates. This post isn't sponsored. We just love these products and enjoy sharing!
We love this stuff! It smells heavenly! It lathers up really well and it conveniently serves as both a body wash and shampoo. We were loyal to Aveeno Baby Eczema Therapy Moisturizing Wash ($7) for K's first year and a half. It worked well, but I wasn't crazy about the fact that it didn't lather well. For shampoo, we used Mustela's Foam Shampoo for Newborns ($12.50). We used it for cradle cap and then just kept buying it.
We made the switch to Tubby Todd's Hair & Body Wash ($12.99 per bottle) a few months ago, and we are really happy with it! Their products are all natural and K's skin is moisturized and her hair is silky smooth. She hasn't had any itchy spots or dry patches since we started using it.
Cons – You can only purchase their products off of their website and from a few select retail locations. Shipping charges apply unless you are planning to spend $50+. Personally, I find that it's a small price to pay for these great products, but I know, for some, it might be too much of a hassle.
We are also big fans of the Dream Cream ($12.99). It smells amazing – a little minty! I slather this on K's bum and on sensitive spots where her diaper rubs and irritates her skin. It works really well. I am also guilty of hoarding this cream for myself. I use it on my elbows, knees, and feet.
Remember when Honest products were all the rage? It feels like the Honest fever has cooled off a bit, but I'm still a fan of their healing balm. K gets diaper rash and Honest's Organic Healing Balm ($12.95) has been a savior! I apply it after diaper changes and she is always protected.
Cons – It can be quite greasy and the smell is a bit different. Not bad, but not wonderful. However, it keeps the diaper rash away and it's all natural, so I reach for it daily.
I originally found these at Target. (Also available in bulk on Amazon. I got ripped off once at Babies R Us and paid $5.99 for a single pack. Dumb.) They are great! We normally use Pampers Sensitive wipes. K went through a phase where she was pooping a lot and the constant use of Pampers wipes left her screaming in pain. I think it was burning and causing more irritation. I felt awful watching her go through it and it made her fearful of diaper changes.
I started using the WaterWipes (which are made without chemicals) and they seem to really soothe her skin! There is never any screaming or squirming during diaper changes. Overall, the WaterWipes have really made a huge difference.
Cons – I feel like they don't clean quite as well as the Pampers wipes if you are dealing with a hefty #2. I still use Pampers wipes from time to time in conjunction with WaterWipes, because I like to be sure that K is clean. Also, it is worth mentioning, that if you read some of the 1-star reviews on Amazon, a small number of customers have received moldy wipes. The packaging on WaterWipes does say to use the product within four weeks of opening.
What are your favorite baby and toddler toiletries?