I am a museum junkie. I love walking through exhibits, examining various artwork, and reading about other cultures and individuals. I even worked one summer at the Japanese American National Museum in downtown LA. There is something sacred about being in a museum, stepping outside of yourself, and getting lost in a different time and place.
A few months back, I heard about an exhibition at the Skirball Cultural Center. It featured the photographs of Ansel Adams taken at a Japanese American internment camp in Manzanar, CA during World War II. I knew I wanted to go with my parents. I wanted to take K even though she won't remember it. She could look at pictures and know she was there. All four of my grandparents were incarcerated in various internment camps throughout the United States, so this hit very close to home. It's a part of my family's history and a subject that was difficult for my grandparents to put into words.
My parents and K
The exhibition ran from October 8, 2015 until February 21, 2016 – so we made it just in the nick of time. Photography was not allowed inside the exhibition, but you can see some of the photographs HERE.
It was a very special experience to be there with my parents and my daughter. It was also a very somber experience knowing that all of my grandparents are deceased (having just lost my maternal grandpa a few months ago). I felt a deep sadness and longing walking through the exhibit thinking about them and seeing their faces in the faces of the subjects in the photographs.
At Smith, I took an Asian American Studies class specifically devoted to the internment. The class had a profound impact on my life. One of our reading assignments was a graphic novel by a woman named Mine Okubo. She was incarcerated in the camps, and drew these very moving depictions of camp life. I was really excited to see an entire exhibition devoted to her life and her work.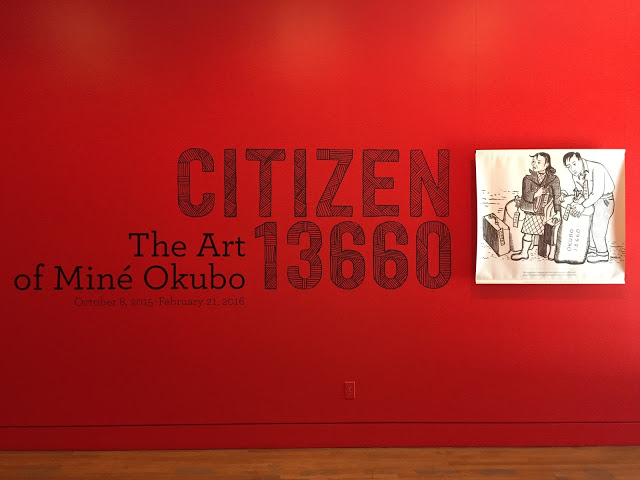 It was our first visit to the Skirball even though my family and I lived about fifteen minutes down the road from it for decades. I am so grateful that we made the visit and had this reflective afternoon together.