WEDNESDAY DINNER


The Asian Noodle Bowls were a huge success! I will definitely make them again. Easy to prepare, tasty, and healthy. The recipe called for chili sauce which added a great kick, but too much spice for the toddler in our house. So, I set aside some noodles and sautéed them in sesame oil and gluten free soy sauce, and tossed them with some shredded carrots. I also defrosted some edamame (one of her faves). She LOVED it.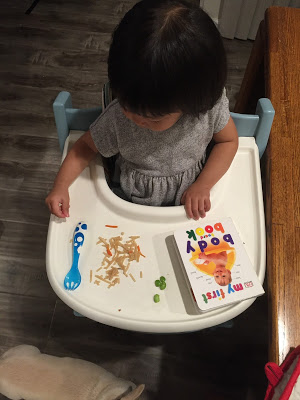 Next time, I will make things easier on myself and prepare the dish without chili sauce. L and I can always add chili sauce to our bowls for that extra kick.
THURSDAY


Today was a busy day from start to finish. I had an early morning therapy appointment, and then it was lunch at home, and off to the park for an afternoon playdate. It was a new-to-us park, and K really enjoyed herself!
What? You don't kiss blue sea horses?
We fought traffic to get home, and we were both exhausted. Cooking was NOT happening tonight, so I turned on the oven and popped in a Stouffer's Lasagna. Our freezer is stocked for days when I can't seem to get my shit together in the cooking department.
FRIDAY


K woke up sick with a fever and miserable. Winter months are frustrating. K gets sick frequently, and it seems to always happen when L has a business trip planned. (He'll be out of town starting Monday.) We didn't leave the house all day as K's fever teetered between 102 and 103 degrees. It was a low key day with a lot of napping for K, and a lot of Nurse Jackie for me. I'm loving that show at the moment.