L is out of town for the better part of this week. This changes our household game a bit. I switch over to survival mode, because I no longer have evening/nighttime parenting relief. L goes out of town about once a month for approximately four days at a time. I have a helpful husband who ties up the loose ends for me, so I have to be organized when he's gone. It's hard to be without him, but I am so grateful he has a job that provides for our family.
MONDAY

Mondays are sort of my catch-up day, because we usually wear ourselves out over the weekend. This Monday was slightly worse, because it was Day 1 of my period with debilitating cramps. I wanted to fulfill my daily goal of outdoor time, so it was off to the park. We enjoyed some fresh air, and it was the first time K really noticed her shadow.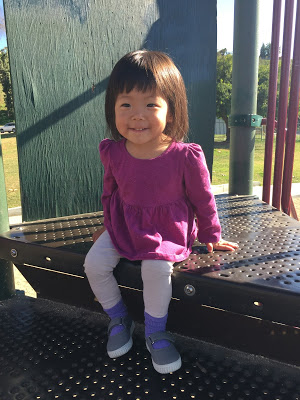 My new favorite photo
We came home, and I died on the couch for awhile while K played with her play doh.
Dinner was a bunless burger and steamed broccoli. (We bought a pack of four burger patties. I made two for our dinner last week, and froze the other two. I was able to make two extra dinners for myself this week by defrosting the frozen patties. It's not rocket science, but normally when I stick food in the freezer, I end up throwing it out months later. I'm trying to use what we've got, and it's saving us $$$.)
TUESDAY


We managed to make it to the zoo again (we have a membership) and had plans to meet up with some other mommies and toddlers. I was super grateful that my period gave it a rest, and I was able to walk around the park without keeling over. I know it's TMI, but it is the truth about life with endometriosis.
Of particular interest this visit were: a family of hippos, a drowsy black bear, the elephants, and running around the germ-infested zoo playground.
Dinner was a brown rice bowl topped with a burger patty, an over-easy egg, guacamole, salsa, and spinach.
WEDNESDAY


K woke up a little sluggish. I decided we needed to slow our roll, because it's very possible she's exhausted from all our recent outings. We spent the morning chatting about yesterday's "shoo" (zoo) trip, reading, and watching an episode of Sesame Street.
We left the house very briefly to stop by the library. We desperately need new books, and the library is free. Remember my spending freeze? We must make library trips a regular thing.
Speaking of the freeze, we have been staying away from places like Target, the mall, etc. There are a few days left in the challenge, and I think I'm ready for it to be over. At the same time, I *think* we have saved hundreds of dollars this month by utilizing a combination of saving tools and gift cards. So maybe it was worth it? More on this later.
Tonight's dinner was an organic pizza I warmed up in the oven. Minimal effort has been made to feed myself while husband has been away.