Happy June, everyone!
I should have a little more free
time soon, and I'd love to get back into blogging. Actually, I have a lot of
ideas for a new blog; one that doesn't take itself quite as seriously as this
one often does. But, I'm getting ahead of myself. Let's start with getting back
to posting here, shall we?
Here are some random mental notes on a TV show and ice cream. I said it was random.
GIRLS – A Short Review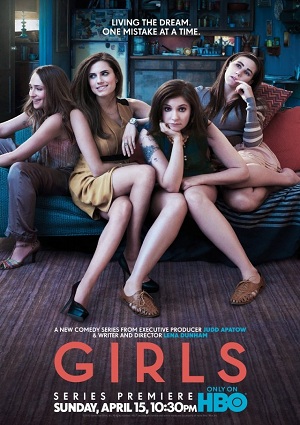 I have been faithfully watching
the new HBO show Girls
that premiered back in April. The
first episode got me so pumped. I couldn't wait to see more! Since then, there
have been a lot of ups and downs for me. I can't say I see my early twenties self in any of the characters,
except Hannah…vaguely. I, too, have wanted to be a writer (and still do). I,
too, have dealt with the difficulties of life in my twenties. The thing I
can't remember is being so insanely annoying and whiny about it like this
circle of friends. Ok, I know when I graduated college, I was overly emotional
and had that "the world revolves around me and my future" attitude. But
was I
that
bad? I suppose it's possible. Nevertheless, I find myself wanting to tell these gals to STFU every episode. And don't get me started on Shoshanna. Ugh.
So why watch the show? While I
really wish some of the characters had more depth, I keep watching because of
Lena Dunham. I love that she writes, produces, and directs. I love that
she's smart, young, and fresh. I actually enjoyed her seemingly pointless indie film,
Tiny Furniture
, and would be
interested in seeing more of her work in the future.
But as far as Girls is
concerned, I'd be surprised if it comes back for a second season.
(This is a moot point. Apparently, Hannah and the gang have already been renewed for Season 2. Make it a good one, girls!!)
My conclusion: The show has had a
few bright spots, but overall, I can't say it has really done much to captivate
me.
Anyone watching Girls?
Sprinkles Ice Cream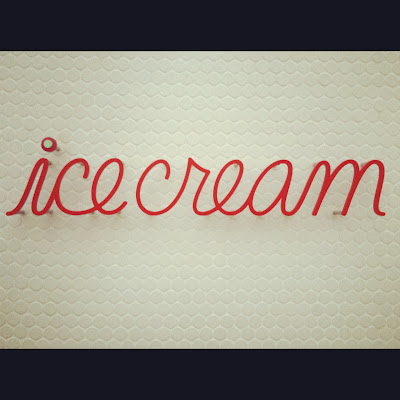 Awhile back, we stopped by
Sprinkles Ice Cream
. When you are
a fan of Sprinkles Cupcakes, and they tempt you with goodies like red velvet
sugar cones, salty caramel ice cream, and ice cream sandwiches made with two
cupcake tops (!!!!) , you RUN to check it out.
What we were met with was a decent
ice cream shop, but nothing to write home about. Like many things in L.A., it doesn't live up to its hype. L
read on Yelp
that at some point in time, people
waited two hours for this shit. Wow, you are stupid.
It's ice cream. No more, no less.
The shop is really cute. Service was polite and quick. Their mint chip was
nasty. This made me sad, because I love me a good mint chip. They only have
select flavors available every day, and when I went they were out of salty
caramel, and most of their more unique flavors. Boo.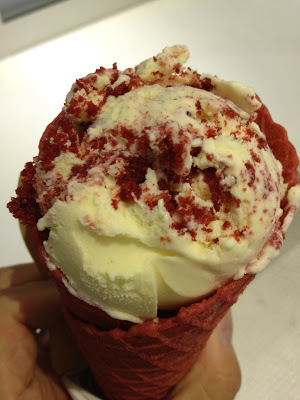 Red velvet ice cream in a red velvet sugar cone. Not too shabby.
We got two cones to go, and ate
them while walking down Rodeo Drive. It was a nice treat to do a little window
shopping. It sure beat sitting out in front of the store trying to look
cool with a bunch of other tools that paid $3.50 a scoop for over-hyped ice
cream.
My conclusion: While good, it certainly wasn't an orgasm on a cone or anything. I am still partial to Thrifty's, because I'm a cheap date. As much as I'm criticizing, it could be
worth a visit if you are really curious. Also, if your sweet tooth is aching,
you can always stop by Sprinkes and grab a few cupcakes. Just sayin.