Last week I introduced you to my BootyWrap. This week, I'd like to share my favorite workout pants. The pants were a gift from my mom. I'm too cheap to buy expensive workout gear. She found them at the Nordie's *I'm special because I have a Nordie's credit card, and I get to go behind the magician's curtain* sale. Well, I'm not special, so I have to stand on the other side of the curtain with my finger up my ass with all the rest of the plebeians.
Mom picked up these pants, the Zella "Run Around" Running Tights. At first, I was skeptical. They looked really tight, and I was worried I might pass out while power walking due to lack of oxygen. But, lo and behold, I broke them in after a few stiff walks, and now I'm in love.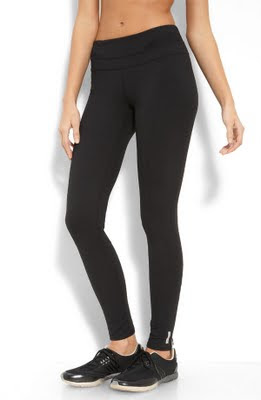 Look Ma, no cameltoe!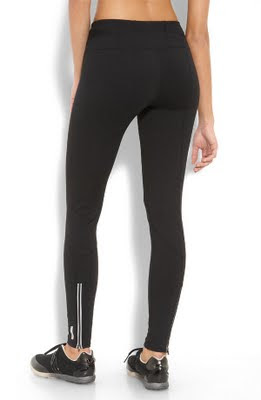 My butt likes attention.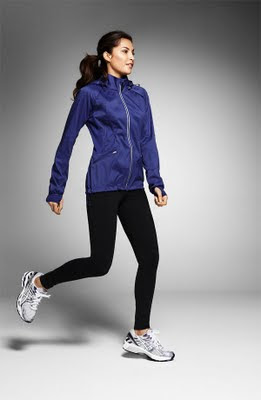 I can bend my legs despite these pants being as tight as a sausage casing!
They are very comfortable, seem to "breathe" well, and have reshaped my bottom half without any obvious effort on my part. That's right; they're magic pants! I have skinnier legs, a higher butt, and slimmer hips. Annnnd, no cameltoe. Phew! I mean, that's like THE most important thing in the search for workout pants right? They're like Spanx for exercise.
Here are some tunes that have been quite motivational during workouts lately:
Lady Gaga – Edge of Glory
Pink – Fucking Perfect
Nicki Minaj – Fly
Pink – Raise Your Glass
Jay Z and Kanye West – Otis
Lupe Fiasco – The Show Goes On
What do you wear when you workout? Also, I need more songs to listen to while I sweat. Any suggestions?