Here is what our Monday evening looked like.
6:45p.m. – Got home. Changed out of work clothes. Talked about how the day went.
7:30p.m. – Prepared dinner. Tonight was fun, because L cooked! I watched and/or pretended I was busy "helping", but really I was admiring. Watching a man cook is sex-ay! I requested L make kim chee fried rice, because we had leftover rice from dinner the night before, and kim chee from my MIL. I made a salad with Japanese cucumber and broiled some Miso salmon we had in the freezer. It was a feast!
8:00p.m. – Sat down to dinner. We laid around for awhile after we ate and talked. Then we watched part of The Bachelorette.
9:30p.m. – I got an unrelenting craving for donuts. I've had a crazy sweet tooth lately. L conceded to my whining, and took me out to get a dozen donuts. I'm not kidding.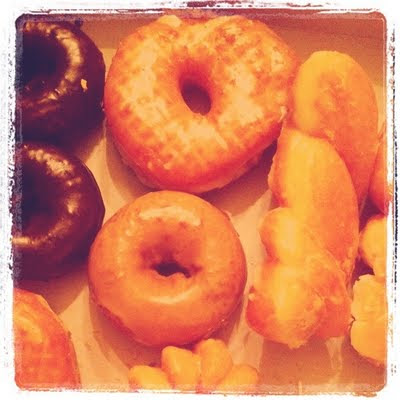 Photo Evidence

That glazed really hit the spot. I'm saving the chocolate one for breakfast.
10:30p.m. – Watched The Big C. It was a stressful episode.
11:15p.m. – Sat in utter confusion wondering where the remote went.
11:20p.m. – Found the remote.
11:25p.m. – Washed up.
11:30p.m. – Sleepy time for L. I blogged for awhile, then went to bed.