I have been attempting to "practice" yoga for awhile now (almost a year). Practice is in quotes because, in my situation, it is a rather loose term. I took a class for awhile and learned the basics, but the instructor was a looney tune and stressed me out. What's the point of taking yoga if you are going to be berated constantly and you leave the class frustrated?
Namaste THIS, bitch.
Ever since my traumatic introduction to the world of yoga, I have been looking for a new class. There is a studio close to home, but it's so intimidating. Everyone looks super professional. One time I was driving home, and spied on the people coming out of class. I was hoping for a few wayward souls to stumble out that looked like I imagine I might look. But, no dice.
Plan B.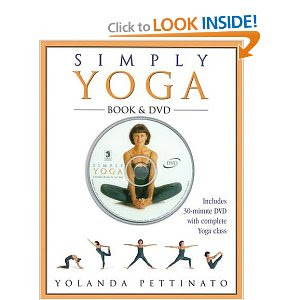 Do some yoga at home with my lady, Yolanda Pettinato! Yolanda and I go way back. I bought Simply Yoga on sale at Borders years ago when I was pretending to study for a midterm, but actually reading fashion magazines and eating cookies.
Yolanda is awesome because (1) her DVD looks like it was recorded in 1992, (2) she is maybe 50 years old (with a 30 year old's body) and wears a purple unitard, and (3) her routine is very easy to follow.
So easy, in fact, that I almost fell asleep once. We were doing corpse pose, and I nodded off. This is why the Yoga for Pros class down the street is a bad idea for me.
Anyway, Yolanda is great. We stretch together, and I am getting better at downward dog. I try and do the DVD (the complete workout is only like 30 minutes) two or three times a week.
A HUGE bonus: I feel like it is really helping with my anxiety. It helps me chill out at the end of the day.
Just another stop on my road to finding relief from my anxiety and the craziness of my life.
Have you tried yoga? Thoughts? I think you are either a yoga person or you aren't. Not much middle ground.