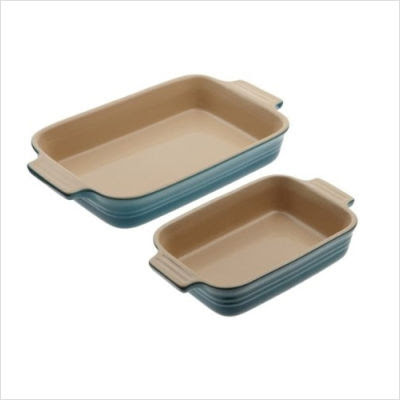 Presenting the latest giveaway from The Less Than Domestic Goddess
Le Creuset Stoneware Baking Dishes
The lucky winner will receive the 10.5″ x 7″ Baking Dish and 7″ x 5″ matching bonus dish.
Here are some additional details…
Le Creuset Stoneware can be used in the oven, broiler or microwave and will not absorb odors or flavors. The durable finish resists chipping, scratching and staining. These beautiful pieces with their bold classic colors and sure grip handles go straight from baking to tabletop, making an impressive presentation.
I am really excited to bring this giveaway to my readers as I know many of you are amazing cooks and bakers. Hey, even if you are like me and have little to no clue what is going on in the kitchen, these dishes are a great start!
Please leave a comment below to enter. The contest is open for one week – June 9 until June 16, 2010 at 11:59 p.m. (PST)
And a few other things…
1) This contest is open to blog readers ONLY. You must be a follower of the blog either in the sidebar, Google Reader, or some other form that I am not technologically savvy enough to know about. I always welcome new readers!
2) For an additional entry, feel free to tweet about this contest. Please let me know in a separate comment that you tweeted about it. 3) If you have a private profile, please leave an email address. If you win, I want to be able to contact you!4) Contest open to U.S. and Canadian residents only.
5) Contest sponsored by csn.com.
Good luck!
Thank you everyone for your entries! The giveaway is now officially closed. I will announce the winner by the end of the week. Stay tuned 🙂