I have finally found the Holy Grail of push-up bras. It's comfy, cute, and does what it says it will do. Pushes the chickies UP!
My search for the ultimate push-up bra began several years ago when I realized that my membership in the Itty Bitty Titty Committee was fo' LIFE. Well, that is unless by some miracle getting knocked up makes them get big and stay big (slim chance), or I pay thousands of dollars to get two silicone sacks installed (slimmer chance).
So I'm stuck with my little B ladies. I'm cool with that – I love and accept them! But it doesn't mean that I don't want cleavage every once in a blue moon. Hey, old married women need to let it all hang out once in awhile, too. (Ok, that sounded slightly more grotesque than I intended it to.) Anyway, this is a roundabout way of explaining that I now have cleavage thanks to my new Vicky's Secret bra that has more padding than a football player's uniform. But who cares? My boobs are floating!
Check out my new bra, the Body by Victoria Push-Up, being modeled by a very eager young woman.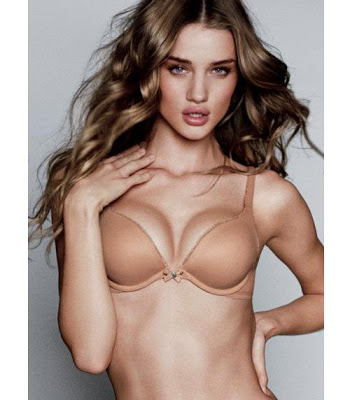 Nice upper lip. It looks so real!
Don't ask me how I found this golden nugget amongst the sea of bras that all look the same. But, I guess you really have to take your time with these things. I'm usually a quick shopper when I go to Vicky's Secret. I feel weird standing there squeezing bra cups while some woman brings her googly eyed boyfriend in the store. Is there like a rule that says there has to be one LEERING dude in Victoria's Secret at all times? Ugh.
If I absolutely have to bring L in with me, I try to tell him nicely not to stare. Maybe he does, maybe he doesn't? Maybe he's been the googly eyed boyfriend before and some woman is writing on her blog about L, the staring V.S. creeper. Who knows? Am I the only one who notices this? Probably.
Anyway, point of the story – I took my time, and found booby nirvana. Cheers to looking better in a t-shirt or sweater sometime soon!
Do you have a favorite push-up bra?