I know I already wished you a happy weekend, but I'm back because I can't end my blog week on such a weird, bodily functions-ish note.
———
Yes, it's that time. I need new jeans.
Remember like five or six years ago when designer jeans were all the rage? All anyone wanted were Seven jeans? I really don't feel like spending $200+ on anything right now. But if I found the right pair, I might bend a little.
While I am on the subject, I am not sold on this whole boyfriend jeans thing. I know Katie Holmes has been bumming around for like a year in "boyfriend jeans", but are they flattering on ME? I'm not 5'10" with Tom Cruise's stylist. For the record, I'm 5'6″ with an Asian stylist named Lawrence.

I suppose I will find out soon enough. I have been wearing the same two pairs of straight leg, stretch jeans I bought in the Brass Plum department of Nordie's for the past year or more. That is borderline pathetic. I used to be such a jeans freak. I had like ten pairs of jeans at all times like any respectable L.A. girl.
Oooh, but I did buy the Levi's denim leggings that LC is so graciously modeling below. I am obsessed with them, but they aren't suited for every day wear.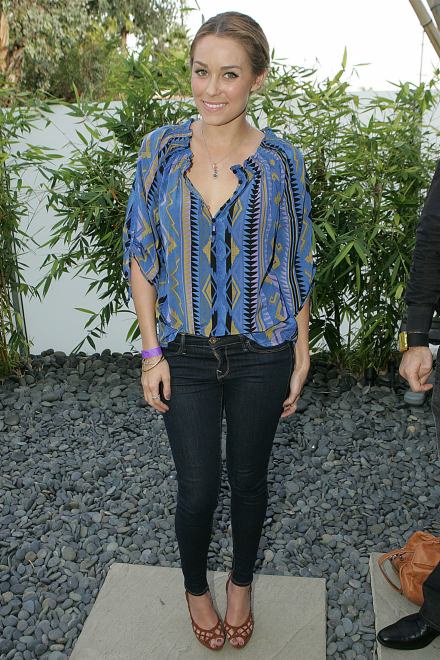 Cute outfit
you got there, LC. I think I'll copy you. Oops, I already did.
So off I go this weekend on a search for some awesome every day, throw around jeans. I'll let you know what I find.
Anyone have a favorite jeans brand? If you say Joe's Jeans, I'll have to shoot you. While I love them, my wallet doesn't.