I'm a sucker for potatoes. Mashed, fried, baked, you name it. French fries are one of my favorite foods, and I have to ban myself from fast food every now and then or else I might actually become a McDonald's french fry.Some women love jewelry. Some women love shoes. I love baked potatoes. Not too difficult to please.
As a self-proclaimed non-domestic, cooking adverse girl (how many times can I say such things about myself?), they are such a quick, tasty, and versatile meal. I used to eat a lot of them when I was younger, but I stopped when I moved out of my mommy's house, and had to do the grocery shopping myself. I don't know why, it's not like it's that difficult to make my way to the produce aisle and bag up a few potatoes? But I digress.
Since our vow to be healthier, I have returned to my old staple of baked potatoes. They are such a great go-to food. Another bonus is that I am anemic, and potatoes are high in iron (especially if you eat the skins!)
I love mine with butter, bacon, cheese, (ok, not such healthy things, but I'm trying) and whatever else looks good in my fridge. For example, this past weekend we had taco night so we had salsa, sliced tomatoes, lettuce, onions, and all sorts of good toppings left over. I stacked all of it on my potato. You can be as healthy or as unhealthy as you want, but rest assured that there will be some nutritional value in what you are eating.
If you want to get all fancy, try a recipe for twice baked potatoes like this. Doesn't that look amazing?!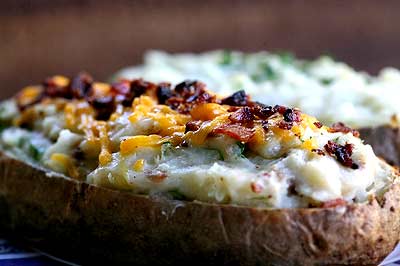 Or I saw this on Cup of Jo awhile back: a recipe for Bullet Potatoes. Yum!
How do you like your baked potato?