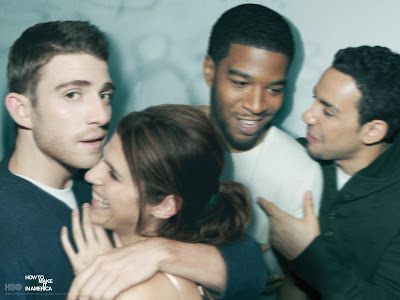 source
My new HBO obsession is the show How to Make it in America. Have you seen it yet? It's about two twenty-something guys (and their friends) living in New York trying to hustle their way into the fashion industry with dreams of making it big.
I have always been infatuated with New York life. Similar to the way that Entourage (same executive producer, Mark Wahlberg) provides viewers with a little piece of L.A., How to Make it in America gives us a glimpse of the big city life (or what I assume the big city life to be like). It was always a dream of mine to live in New York. I wanted to have a little one bedroom apartment like Carrie Bradshaw, take a job doing something I loved, and meet my girlfriends for 2pm brunch on Sundays after a long night of partying. Never happened. Oh well, I'm over it, I guess.
Being someone in my late 20's, I feel like I am in the midst of trying to figure out my version of the "American Dream". Two years post-graduate school, it is really starting to sink in that this is my life. I don't have the luxury of saying"one day when I grow up". I am living my life, every day, like it or not.
I think most of us have entertained the question of "What if?"
When I read a story about an unemployed writer who scores a book deal, or a start-up that goes viral and moves their office from a back garage to Beverly Hills, a little something sparks inside of me. I think, "I can do that." I can still take that leap of faith, and start that business or write that book or go after whatever I want to go after. It makes my dreams feel so close, yet they are still so far away. It's not always about money, but it is always about the dream. It's about taking that risk.
Educated or not, rich or poor, fat or skinny, short or tall: we are all trying to make it. I'm loving this show thus far. Keepin' my fingers crossed that it lives up to its hype.
Have you seen the show? Do you ever think about taking a big risk to fulfill a dream? Maybe you already have. New episodes are on Sundays at 10pm.