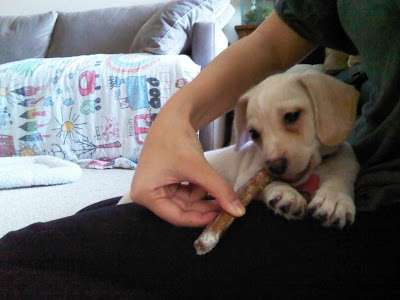 via my blackberry
The way I have presented it on the blog, you would think that the decision to adopt Henry happened overnight. Well, there is a lot of back story to this story that I didn't want to write about until we had actually got a dog because it's a series of mishaps, a little danger, and some heartbreak. So put your feet up and get comfy. This is a rather long one.
The question over whether to get another dog came up almost a year ago. For some reason, we (I) became convinced that Emma was lonely and a new dog would be a fun "project". But weren't you orchestrating the planning of a ginormous wedding almost a year ago, you might ask? Oh yeah, oops. I think I was a little nutty around the three month mark before our wedding. I not only decided we needed another dog, I also purchased the world's most hideous wedding gown off of eBay in the middle of the night for $100. I was never properly diagnosed, but I think I might have been clinically insane. The jury is still out on that one. But anyway, we ventured over to a local shelter to "look" at dogs to adopt. Somewhere in the mix of things we brought home a dog: a fluffy white thing with hidden anger problems and the ability to jump over three foot walls. We later learned the poor thing had been abused and its previous owners had cut its ears! So sad. After one week with the damaged dog, I knew that we had made a HUGE mistake, and that we would be doing a serious injustice to the little one because we simply had no time to work with her. I still feel so bad about the whole thing, but as luck would have it, I found out she was adopted soon thereafter. Thank God. I hope they were able to give her the home she deserved.
Anyway, so after the adoption mishap (totally MY fault), we eased up on the new dog convo. I knew I had f'd up and plus I had that little wedding thing to plan.
Months went by, and we were so busy with newlywed life, work, and the holidays that we never re-visited the dog situation. But finally this January we decided that we might be ready to think about it again. My mom was looking for a dog of her own, so we teamed up and did some online research together. She came across this website called kijiji.com. It's free local classifieds, sort of like craigslist. Since we hadn't found any good dog leads on craigslist, we gave kijiji a try. They have an extensive "dogs and puppies" classified section of posts listed by breeders and adoption agencies and organized by city and/or zip code.
I responded to a few ads, and got a response from a lady that sold poodle-mix dogs in a shady part of the Valley. At this point, I decided I wanted to purchase from a breeder, mostly because I was a little freaked out by what happened with our adoption. At first this mystery breeder was very nice and attentive. She answered all of our questions and said the puppies were available for viewing that weekend. We scheduled an appointment, and she said she would follow up with us a few days later. I thought something was off when she didn't follow up, (Always trust that gut instinct. ALWAYS!) but she ended up calling us the following day. She told us that she sold one dog, but she still had two others available. She gave us her street address, and confirmed our appointment for the next morning. We were so giddy with anticipation! I remember barely sleeping that night. In the morning, we drove to the supposed home and circled around the block. "Hmm, that's funny. She gave us the wrong street address. Is there a chance I heard her wrong?" We tried calling her and no one picked up. We called again, and her "boyfriend" (a.k.a. possible serial killer robber person) picked up. He said that she was in the area, and she would call us. We waited fifteen minutes, and I started to get a very bad feeling about the whole thing. We hightailed it out of there, and she NEVER called us. But strangely, for the next few days, she continued to post on kijiji trying to "sell" the same adorable pups we had fallen in love with. I flagged two of her posts, and she hasn't re-appeared since then.
When I can stomach it, I watch the news. L.A.'s news is always filled with great, upbeat human interest stories about stolen babies and kids who are killed in gunfire. The other day, I watched a story about a couple who was trying to sell their car online. Some guy showed up at their home and shot them both, killing the woman, then stole their car. So tragic. I don't know if the mystery dog woman was legit or running a scam, but I will never be so trusting of online classifieds AGAIN.
Part II coming up. It involves finding Henry, filling out a ten page application, and a crazy, but awesome dog rescue lady. The story is only two parts, but I had to break it up because I highly doubt anyone would want to read SO much text if I finished the story now. If you got this far, thanks for reading!! I hope it helps anyone interested in getting a dog. Just remember that if you want to do it right, it really is kind of a big deal.