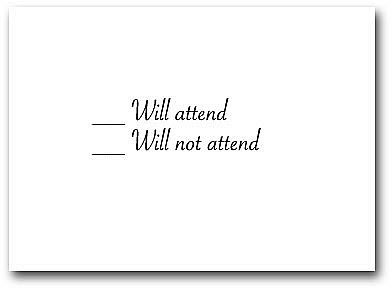 Source
I couldn't be more excited and grateful that guests are responding to our invites and sending in their RSVPs in a timely manner. In the past, I admit to some bad RSVP behavior such as sending it in right at the deadline or after. I think once I even forgot to send one back all together, and had to email my response to the bride-to-be. Terrible!! I was in college, and absent-minded…but still, no excuse.
Now that I am on the receiving end of the RSVPs, I have been bothered by something. It's such a small thing and I know I shouldn't particularly care, but it has been mildly upsetting to me when guests have declined the invitation by simply checking "no". It's less about the guest's decline, and more that they didn't care to write anything else. I'm not asking for a two page manifesto outlining their reasons for missing the wedding. But, it wouldn't hurt anyone to write, "Congratulations" or "Sorry we will miss it, but thanks anyway" or "Glad we won't be attending your wretched affair." 🙂 I know I am being overly sensitive and maybe too touchy, but, to me, it feels kinda rude. It's the equivalent of asking someone in person if they'd like to attend your wedding, and them responding with "no" and just walking away.
I am so glad to learn these lessons through experience. I have yet to decline a wedding invitation, but I know now that I will never decline without writing a thoughtful message to the couple getting married, regardless of my reasons for not attending.
Do you consider certain RSVP-related situations to be rude or in bad taste? Were you surprised at yourself for caring?