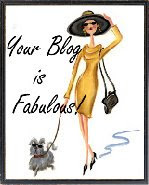 …no, I'm not just saying that to be obnoxious. I was tagged by Amy-Jo at Bride Chic, as a recipient of the Fabulous Blog Award! Isn't it such a cute award? Thanks, Amy-Jo!
Here are the rules: List 5 obsessions/addictions that you have, and tag back to the person who gave you the award. Post the rules. Tag 5 more people!
1) My #1 Obsession of 2008 has been this blog! Ok, boring answer, but true.
2) The following television shows: Brothers and Sisters, Grey's Anatomy (the first few seasons), The L Word, Project Runway, and Top Chef.
3) My Blackberry. It's kinda sick how much I check it. Ask L. He will confirm this.
4) Facebook. That site can be such a violation of privacy if you allow it to be. But still, I can't help but log in.
5) My Mama's Homecookin'. Self-explanatory.
Who else is fabulous? Check these blogs out… (listed in no particular order).