We've been engaged for nearly 1.5 years! Stay tuned for a post on our engagement story in the future. A two year engagement allows for a lot of laziness. Our timeline is stretched double or maybe even triple the average engagement. Case in point: it took us a year to have our engagement pictures taken! But at the risk of sounding cliche, it was worth the wait.
We heart our wedding photographer, Toby Morris of Toby Morris Photography. He's the best kept secret of Los Angeles Photography! He'd probably laugh if he heard me say that because he's the most humble, down to earth guy. We loved that his personality was so laid back, go with the flow, chill. Don't get me wrong – it's not like he's going to fall asleep behind the camera. He's serious about his craft. But he put us at ease and made us feel like we were lounging at home…not having professional pictures taken.
I originally had three different locations scouted for our shoot, but then at the last minute, we decided to stay at one location: a local park that held fond memories of tree climbing and tire swinging for me. I wanted a nature-y, outdoors-y feel for these pics because our wedding venue is in the hub of downtown L.A. We'd get enough "urban chic" shots during the wedding. Even though I'm from a huge city, I love and appreciate nature in all its beauty and splendor. How else could I have survived living in small cities like Ithaca, NY and Northampton, MA?! (Cities which I adore, by the way)
Here's a selection from our May 2008 shoot at Rustic Canyon Park in the Santa Monica Canyon. (some of these aren't edited yet…yep, that's my lazy brideness showing again…)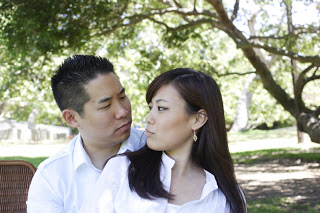 We're usually being goofy like this.
This was my fav backdrop because it reminded me of a Northeastern barn!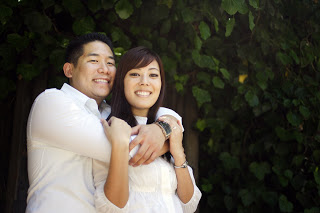 This picture went on our Save the Dates.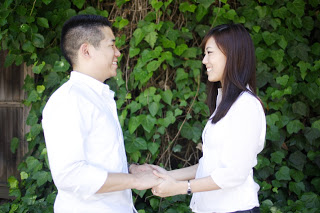 Practicing for the big day.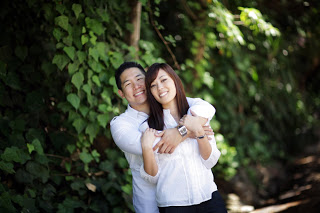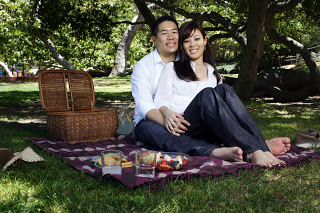 Our little picnic!
(All photography courtesy of Toby Morris Photography, all rights reserved)